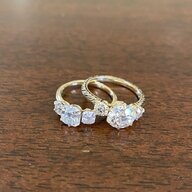 Joined

Jan 28, 2017
Messages

117
So I bought a friend this 11 ct unheated ruby for Christmas from Mastercut's Rocktober sale: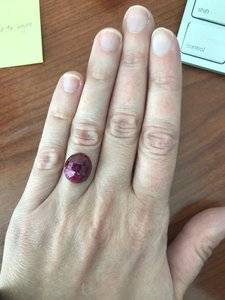 Dimensions: 13.7x12 mm
As a gift, Mastercut also included two little iolite side stones, also oval, 7x5 mm each.
My friend's uninitiated into the world of jewelry and is very excited about this (she knows I'm giving her a honking big stone and two little stones, she just doesn't know what they are), but doesn't know much about having jewelry mounted. She's also having a hard time finding a good jeweler in the Philadelphia area, so any suggestions would be appreciated. Stuller doesn't seem to have any pre-made mounts for either oval rings or pendants with center stones larger than 12x10 mm.
Is there anywhere else to look, or is this just going to have to be a custom job? If so, can anyone recommend custom folks who'd be reasonable bets for semi-precious stones that didn't cost a fortune in the first place? I've heard good things about Yvonne Raley on Etsy. I'd just feel incredibly guilty if my friend ends up spending a lot of money to set what I thought would be a fun gift
Thanks, PS!