Long time lurker here! I've learned a lot from all of your combined expertise.
I'm finally getting ready to pull the trigger on an ering upgrade. I know they're not in vogue, but I've always loved princess cuts. I'm looking for something ideal cut and really sparkly that's as close to 7mmx7mm as I can get (so ~2 ct). I'm pretty color sensitive, so preferably G or lighter, and eye clean. I like the bigger facets of the stones with 2 or 3 chevrons and the look/fire of a smallish table (though it's difficult to find anything below 70%). My budget for the stone is $16K (preferably under $15K).
Right now, I have two diamonds on hold for the next day or so at James Allen. I just received an ASET for one, and the other is AGS graded and has a computerized ASET on the certificate. It's hard for me to compare the ASETs since they're in different formats. The setting I like is from James Allen, so it makes sense to get my diamond from them if I can find a good one. I've been following Whiteflash's inventory for months, but they don't have a big selection of princess cut stones this size, and the ASET of the AGS stone looks to be about as good as the Whiteflash stones I've seen. I've also looked into Brian Gavin, but he no longer does princess cuts.
The first diamond (sku 7334773) is one I've had my eye on for months. I love the unique look of the two chevrons. It does have some feathers close to the corners, but the gemologists I spoke with said they're not too concerning. My understanding is that once a diamond is set, the probability of it chipping goes way down, but please feel free to educate me if that's not the case.
The second diamond (sku 7588103) is one the customer rep I was chatting with last night found. It's almost exactly the same measurements as the first, is one color grade higher, and costs about $2K less. I just received the ASET (which, to my untrained eye, looks decent but not amazing).
I'm able to request 2 additional ASETs from JA if I find another diamond I like.
Tell me what you think! Either? Neither? Here's the setting I like in case that helps:
https://www.jamesallen.com/engagement-rings/three-stone/platinum-tapered-baguette-diamond-engagement-ring-item-1206
Thanks!
https://www.jamesallen.com/loose-diamonds/princess-cut/2.02-carat-g-color-si1-clarity-sku-7334773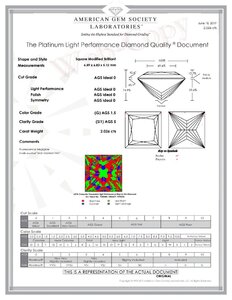 https://www.jamesallen.com/loose-diamonds/princess-cut/2.01-carat-f-color-si1-clarity-sku-7588103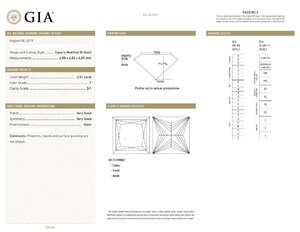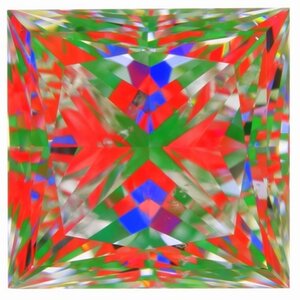 https://www.jamesallen.com/loose-diamonds/princess-cut/2.01-carat-f-color-si1-clarity-sku-7588103