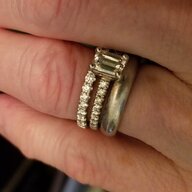 Joined

Aug 18, 2006
Messages

256
Well, haven't been here in a while, and I'm feeling sad and needing comfort regarding what will be my new ring.
10th anniversary coming up soon, and my husband wanted my to have to side stones I always wanted. My basic EC solitaire can be changed around with various stacks, and a couple of wraps I have, but I always wanted the side stones, but had to buy ring fast in 2006, because he was going to be gone for months for work and wanted me to have a ring.
I love my H diamond, though it shows up awful in profile pic, it's quite pretty. I searched through Stuller as I don't have the energy to go around trying on rings or designing one. I'm not well a lot.
So, we picked a 1/3 tcw baguettes semi set... Hoping to ice it up a bit. I'm of the idea that my wearing anything too big would be seen as a simulant, so I have always wanted my ring to be less than ostentatious.
I guess, looking so long ago air brushed illustrations ruined me for what the setting would look like. I dropped off my original ring today at my jeweler, who took it out of the Stuller package for me to try on. It was hot in there, I was in a hurry... It's not set with my diamond, hard to be excited. So I left my ring and came home. In sort of a daze. The sides seemed so tiny. It's not set yet, and not bench-polished, just off the shipping truck.
Have I got the dreaded shrinkage before my diamond has even been set? It's not a cheap ring, it's platinum, like my original, just not blingy as cuts like this aren't... But somehow I thought it would look more impressive.
The setting out of the Stuller packaging, looked tiny and dull.
Does anyone have side baguettes 1/3 tw flanking an EC? or any cut... Curious to see how it looks set and polished. Now I don't have my engagement ring of 10 1/2 years, and I feel like I left it to be set into a microscopic setting. Feel on the verge of tears, actually. I need to see real rings with this size baguettes. What size baguettes would have been a good size with a size .71 middle stone? Did I miss a setting at Stuller that would've been bigger, more noticeable? I'm bummed. So many questions.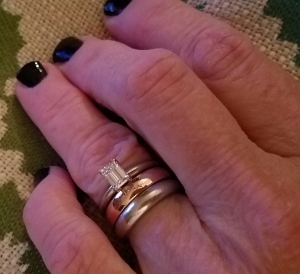 My current set up: never-removed heavy domed comfort fit 4mm platinum band, with my new rose gold band the same size and thickness...