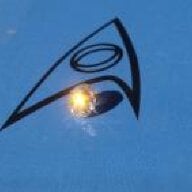 Joined

Apr 21, 2010
Messages

1,331
I've lost my itty bitty yellow diamond pendant.
I'm absolutely devastated. It was one of the first diamond projects I undertook on my own. Bought the .21ct yellow diamond myself and then my dad gave me a little 3 pointer so I went to a jeweller and said, "make me something small and dainty and cute but fabulous!" and he did. And I went and bloody lost it.
To top it all off, it was under-insured. Well, it was adequately insured when I had it made, but then our currency tanked. And then it tanked
again
at the end of last year and I just didn't get around to increasing the values, so I guess I'll only get out about half of what it would cost to replace it.
My dad has offered to make a contribution towards the replacement, but I think at 32 I should be able to look after my things without losing them and if I do lose them, I should be able to replace them myself.
So I'm on a budget for this project.
So now. Replacement time. Please talk this through with me and help me decide what I really, really want. Because frankly, I don't actually know. I want all the things. All of them. But I can't afford them, so maybe talking it out with all you nice folks will help me decide what I really, really want?
Recently, I said I want a super long (56") DBTY and an interesting looking antiquey type pendant. But I've had a look on Diamondbistro and LoupeTroop and nothing screams BUY ME! Added to which, I'm in South Africa, and
no one
ships to South Africa, no matter how nicely I try to explain that I'm a real person, not a scammer and South Africa is actually 4000 miles away from Nigeria. So there's that. So I think I need to work with what I have.
What I have:
1. .57 J SI1 OMC - I could bezel this? Kinda like Vintagelover229's pendant, but in white gold?
It would feel really luxe (to me) to have a solitaire pendant bigger than my e-ring stone!

But I don't know if I
really
like solitaire pendants. I mean, I like them just fine on other people, but for myself I prefer something more interesting looking, y'know? Some detail, another stone or two, something to look at. I also don't really like milgrain (heresy, I know! But whenever I see it I get this weird itch to get some sandpaper and smooth it out.

) HAVING SAID THAT, I do have a 20 pointer bezeled solitaire pendant that I never wear. I had it made for my wedding four and a half years ago and I think I've worn it maybe for a month? In total? Maybe I'd wear a bigger one? I don't know? What do you think? Do you have one? Do you love it? What do you love about it?
2. Three 4mm rounds in white, pinky brown and light yellow. About a year ago, I was kinda sorta thinking of bezelling these bad boys in white, rose and yellow gold and putting them inside a little white gold circle pendant? Like this:
But classy and elegant. A much smaller circle, without all that detailing on the circle. Or maybe even bezel them all (hmmmm bezels, are you sensing a theme here?
) and put all three of them on a chain and have them randomly slide around so I can play with them? What do you think?
3. In addition to the four stones mentioned above, I have four other random stones I've collected over time, all currently homeless. I could do a DBTY? Maybe not the 54" of my dreams because that'll be hellishly expensive over here. I had a look at what they have in the shops over here and an 18" .22ctw
STARTS
at $1000, and the stones are so effing tiny you can hardly even see that it's meant to be DBTY! So maybe start with 18"? With my own stones? And add to it? But I don't know if I really am a DBTY necklace person though...
I don't know if it's one of those things I want to want rather than want to have. Does that even make sense? I mean, I love the look. I really do. But I tend to sit and fidget with my pendants, rather than just leave them sitting there looking fabulous. And I loved running my pendant over the chain and feeling that zippy, zingy feeling. Very soothing. Cheaper than therapy. And one can't really do that with a DBTY, y'know? Or maybe if one is a proper grownup with like, style and shit, one can layer a shorter chain with pendant with a DBTY? And just fidget with the shorter necklace? I don't know? What do you think?
YOU GUYS I FEEL LOST AND I NEED HELP AND I DON'T KNOW WHAT TO DO!!!
Take pity on me and tell me what you think I should do. Or at least tell me what you would do. Or tell me about what you don't like. Or something. Just help me talk this out so I can make sense of it in my head and maybe by the time I've come to a decision my little ray of sunshine will show up and I'll be fabulous again and I won't need a new pendant.
Anyone? Please?