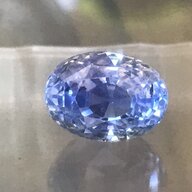 Joined

Jul 14, 2020
Messages

85
So I promise I have been doing my homework before I come here to take advantage of your wealth of knowledge.... but this one has me stumped. I have run out of terms to google and not even come close.
It's a super odd looking broach but is extremely intricate in its workings. The metal does not seem precious but it's super strong (maybe pewter?) and considering it has been knocking about in boxes and dress up junk jewellery it has held up amazingly well.
I attempted to clean it up a bit with a toothbrush and toothpaste (like my grandmother taught me) but got nowhere with it.

I have kept it over the years because it baffles me (not because I think it holds any value).
it's large - like the size of a pack of cards - like belt buckle size? So I can't even imagine it being worn..... maybe to secure a scarf?
In your personal opinion is this worth bothering a jeweller with?
where does one go for appraisals on costume jewellery?
It's super sparkling under lights but I couldn't work out how to attach a video.