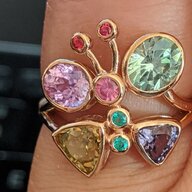 Joined

May 13, 2018
Messages

2,300
Part 1
So the story begins with--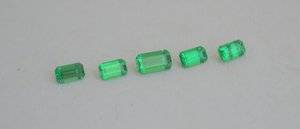 a suite of five beautiful tsavorite garnets from Kenya. I came across them when I stumbled upon Cecile Raley Designs on Etsy and browsed all their eye candy. I thought it was expensive. I was a student not yet working, so I favorited them. A lot of the things I favorited from this Etsy shop became unavailable after a few months. These tsavorites remained, and for a long time I didn't pull the trigger because I didn't know how I would set the stones. The obvious thing to do would be to set them straight up and down or in an eternity design, but I didn't think that's what I wanted for them.
Well, after some time spent on PS, I started sketching some geometric designs. At some point, I started sketching stuff involving baguettes. One after another, just a couple minutes at a time, here and there.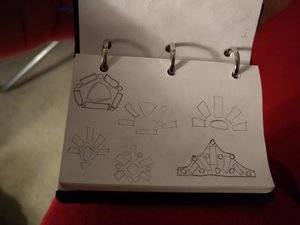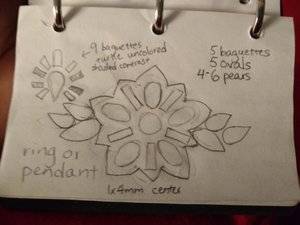 Nothing was drawn to scale or sketched in color, but my imagination ran wild with combining Yvonne's colorful gems.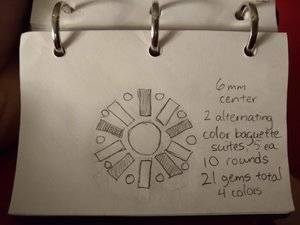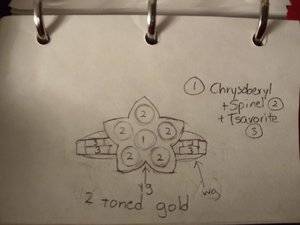 Eventually, her New Year's sale came around, and I decided to buy the tsavorite suite on sale. Then my sketches became more focused on combining the baguettes with other loose gems that I bought from Yvonne.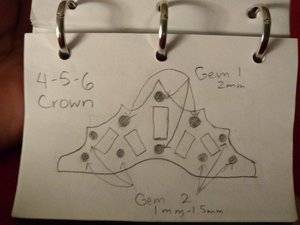 I eventually came to decide on how I want the tsavorite baguettes to be arranged (forming two "eights" like Chinese characters). I showed Yvonne the above sketch, and she said it was a cute idea, but there was too much metal showing. Of course, I started thinking of studding a tiny crown with more gems.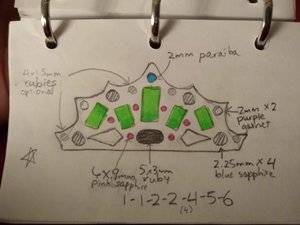 But then, I realized that too many gems would be a pain to set, and I kind of pared the number of gems in the design down a bit. The kite diamonds I bought from Yvonne's February Tucson sale were nice, but I couldn't think of how not to leave gaps between stones. At this point, I found myself left with 2 lavender oval sapphires left over from other projects and decided to use them instead of the kite diamond pair: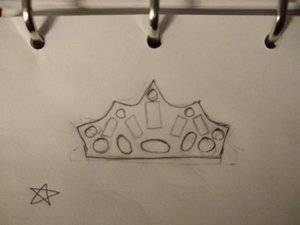 At this point, I made a little png with a free software that gave me precision in gem placement, but which I used pretty poorly, as I selected really painful colors for the eyes to represent the different gemstones that I wanted to use. Trust me, the gems looked much better in person than my layout image or the camera captured at night.