Hi everyone,
Sharing my entire experience on how I landed myself a beautiful ring purchased from the infamous Tianyu Gems. Before we dive into that, let me share how it all started from the beginning.
I started my ring search in June, and was ready to settle with a 0.8 ct diamond ring on a simple pave setting, nothing too fancy. I've gotten quotes from multiple local jewelers with similar pricing. I was ready to spend that money and the only question in hand at this point is which store I want to get from. I spent a lot of time on Instagram, admiring other people's rings and saved a couple as reference. You know how creepy that your Google searches would populate ads on your social media page with things you have your eyes on the internet? Well that happened and a small local jeweler page came up and I went on to ask for a quote as well, and the person who attended me had just said, "what about a Moissanite instead of a diamond?" and it all shifted from there.
I was instantly hooked, I mean I was going to be saving so much money from that. My girlfriend and I are not particular on the values of a diamond anyway so why not! Unfortunately, Mossanite is not popular in Malaysia so I don't have much of a choice. That jeweler who introduced me to this whole new idea wasn't giving me much of a confident anyway, and from my research, I'm afraid of a possible discrimination of LGBT should I ever visit the store for collection or consultation, really not up for that. So I moved on to survey all the popular ones in the US including C&C, LB, F&B. I was still holding back though, considering the import fees and especially if there's something wrong with the ring - disputing over it would take so much time and hassle, not to mention the shipping fees as well. From there on, I was reading so much on various forums and that's how I found out about Tianyu Gems! There were so many good reviews and I just had to check them out. I downloaded the Alibaba app, went on their page and asked for a quote.
Ella responded immediately. She was really friendly and I was instantly confident, I gave her the details of the ring (7mmx5mm oval, color DEF, rose gold band 1.9mm, side stones and a word to engrave). She quoted me USD 430 + USD 30 for shipping, talked me through the whole process/duration. She also informed me that I would have to make payment through Alibaba instead as they were having some issues with PayPal (probably because of the spike in payment, in my opinion) and assured me that the buyer protection Alibaba offers is safe and reliable. I told myself that if I were to proceed with this, I need to accept that should things go wrong or if the ring is not as how I expected - I would be ready to lose that money. After thinking about it back and forth + all those times online + dreaming about this moment, I made payment on 3 Sept and I was back to sleepless nights again (Can't help it, I was excited).
Ella messaged me the next day, asking for a clearer picture of the design I wanted. I was at work and I quickly sent her one I found on Instagram. She needed the ring size too, so I had to do the old thread-around-my-finger trick to get an estimate size of my girlfriend's. After 2 days, Ella sent me the CAD of the ring. The setting was a little off to my liking, and I thought the picture was clear enough for them but I guess not. It was totally different and she said because of that and if I'd like to change, I would have to pay another USD 20/30 for a new CAD. I wasn't going to, so I worked around with the original one. Here is the first CAD she sent and how I wanted it instead. No major changes, which was simpler for the both of us.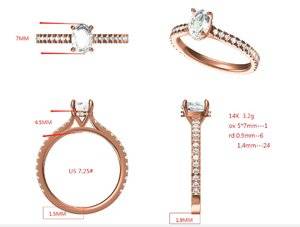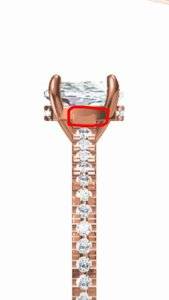 After another two days, she sent an updated CAD and it was as I wanted it. She lowered the circled part so it does not connect to the basket. It was good to go and I gave her the thumbs up for the work to begin!
The duration to make this custom ring would take 7-14 days as I was told. After the 7th day, I texted her over a weekend to check up on the ring, and to send any pictures for update if she could. She updated me and told me it would be ready early of the following week, so I waited it out. On the 19 Sep, it was done! She gave me a couple of pictures, let me share one with you. (I only included 1 picture, she did give more though of various angles)
*I initially wanted to upload the videos but I had to do it through YouTube to share the link here, won't do that for now. Don't want my girlfriend to be finding this out! I'll think of something, no worries.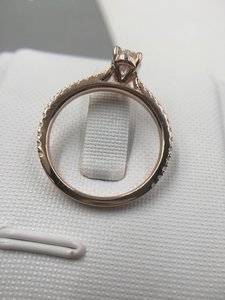 On 25 Sept, I have received the ring! The package was sent to my family's home and I made my mom to drop it off to me at work (thank you, mom!). It was a pretty crazy day at work, so I couldn't find the time to properly sit down and take my time with it. Initially, I had plan out to do an unboxing video but yeah, I can't go home to my girlfriend to do that either. So, eager me just ripped everything apart at work! Let me tell you, the packaging was insanely well done. The box was taped up real good and secure, took me some time to open that up. When I saw the ring, I was over the moon. Here's a picture I manage to snap real quick at home that night.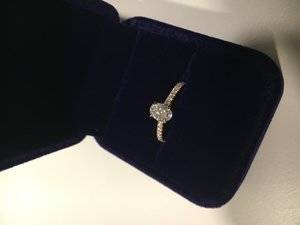 There you have it! No plans to pop the question anytime soon, but this ring will help me stay grounded to work towards my goals now. I'm really satisfied with it and highly recommend it. The ONLY thing that concerns me now is that I think I have gotten the ring size too big, but I guess I'll figure it out later
Some tips from my experience:-
1. Give them CLEAR pictures and PRECISE details of what you want. Ask questions! Ella didn't really give much opinion/thoughts when I asked, the ring was overall a simple one anyway, which also helped to ease my worries a little when they make it.
2. Before/Upon payment, ask them to send you pictures of the stone! If you want to pick out your own stones, have them to send a few pictures for comparison. I see some people on here have done that so definitely doable!
3. The CAD will show the exact measurements and design of how your ring will be like. As you can see from above, CAD will look weird but it's digital so don't worry if it looks like it! Just make sure the design is as you want it and the measurements/other requested details are in there and it will be good.
4. The entire duration was on point as communicated. I live in Asia so time difference wasn't an issue for me and Ella. Be patient and they will sort it out for you effectively
I'm open to questions if anyone has
thank you for your time and I hope this helps!