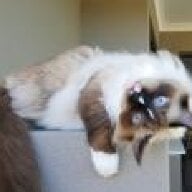 Joined

Nov 8, 2013
Messages

597
Hi Pricescoper's,
So I've been wanting an AVC for a very long time and I was recently lucky enough to be able to purchase one. I have to say a huge thank you to the very patient David at
GOG
for so kindly answering all of my nit picky questions, also a big thanks to Jon for working so hard to make AVC's (and AVR's) a reality. I can't recommend
GOG
highly enough, especially for those of us living outside of the US, the amount of info they provide you with is just amazing and in turn, makes your purchase as risk free as possible. Thank you
GOG
for offering such an awesome product and service!
I went with a .88 N AVC, with strong blue fluroescence. Potentially a bit of a risk given that I've never seen an AVC irl before, let alone an N coloured diamond. Living in Australia there was no chance of popping over to NY to check them out any time soon, so after reading probably every review on here about lower coloured AVC's I decided to go for it. Soooooo glad I did!! This little AVC is just amazing! I'm clearly not colour sensitive because to me it looks really white most of the time. I was worried that it might look a bit yellow next to my wedding band which has F/G diamonds, but when I put them together I really can't see much of a difference. This AVC is such a chameleon, it just changes constantly and I love the flashes of colour. Even in a smaller size like mine, the optics are just phenomenal, I can't believe it's mine - I feel extremely fortunate!!
Anyway on to the photos - apologies in advance, I only have my phone and I just don't seem to be able to capture the colour and fire of this little diamond to do it any justice, not even close. At this stage my AVC is unset, I'm thinking of a simple bezel with some milgrain......will probably head over to Rocky Talk for advice. Anyway, thanks for letting me share my sweet petite AVC, I realise it's not the impressive size of the majority of the diamonds on here, but to me it's huge! And I really, really love it!!