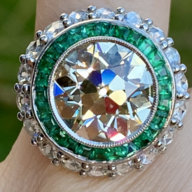 Joined

Sep 18, 2003
Messages

550
A little over a year ago, my husband gave me this 25.65 ct citrine from Bahia, Brazil, cut by Troy Richardson of Excess Design. He cut in in the "Supernova" oval by Robert Long, which I love because of the broad, geometric faceting similar to old cut stones. It even has a culet!
Troy's photo: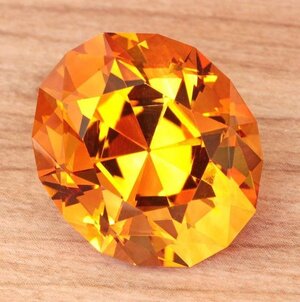 It was even lovelier in person, and ranges from a vivid orange to a deep yellow: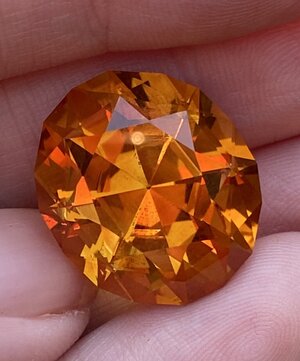 (that weird circle is a reflection, the gem is better than eye-clean)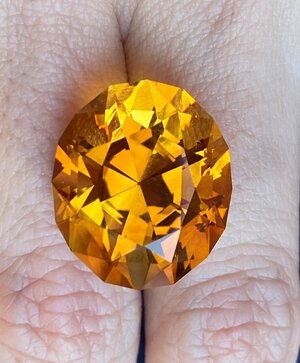 I wanted to do it justice in a large pendant. I love vivid colors, both complimentary and contrasting, and over the course of the year I collected a bunch of relatively inexpensive colored melee. I really wanted this pendant to be vivid and joyful, especially given all the suffering that has gone on in the world over the last year. And I wanted it to remind me of sunshine, spring flowers, and the natural world. I looked at a number of different options but a simple halo didn't really feel right to me.
Then I saw the wonderful 1.25 ct tsavorite that
@arkieb1
listed on LoupeTroup, and I immediately felt that it "belonged with" the citrine. So I bought it, even though I still had no idea how I would put them together. ArkieB's photo: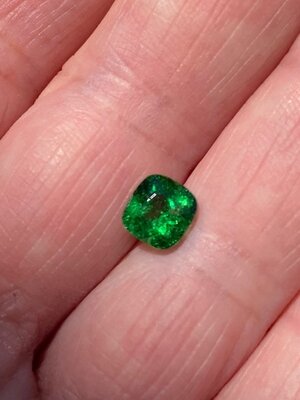 As usual, lovelier in person. My photo: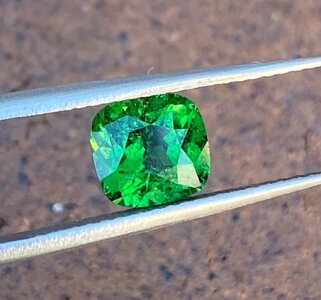 I do all of my jewelry design with in Powerpoint, using photos and shapes that I have sized to their real-life scale. When possible I also take photos of metal elements like bezels to try to make sure that my design is roughly going to fit together. I started playing around with different options… I really liked green and violet to contrast with the orange of the citrine… this is with 3mm violet sapphires, 2.5mm tsavorite, and 1.5mm diamonds: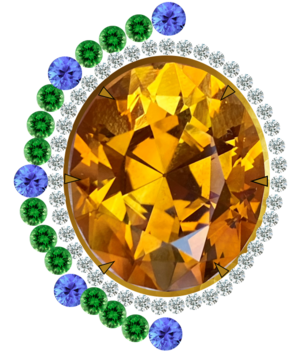 But I realized that green-on-green was not going to look so great next to ArkieB's tsavorite, because I could not match the exact same color of green. I DID however have medium pink tourmaline melee that was the same size as the tsavorite, 2.5mm: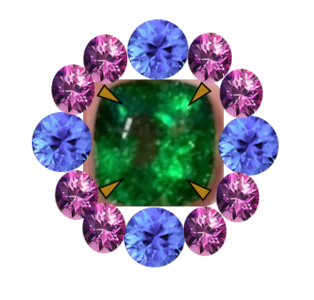 Once I saw this color combination of pink, violet, and green I really liked it and wondered what I could do if I extended the same color combinations to the citrine. I worked on the below design, and as soon as I saw it, I knew that this was IT!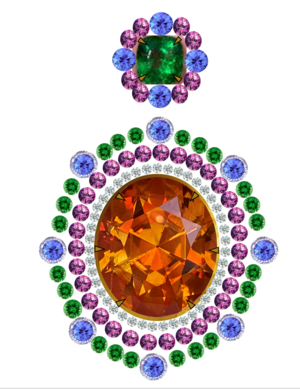 Now, how to get this done inexpensively? I already had a great experience working with CaiMao in China, but I was curious about the option of using gold and sterling and they don't work in sterling. I had seen the beautiful work that
@dk168
had from Diamondmounts, also located in China, and really wanted to try them. I sent them my "design specification" for the pendant and asked them to price it in a number of different metal combinations. I'll share what my design specs look like in case the format is helpful to anyone: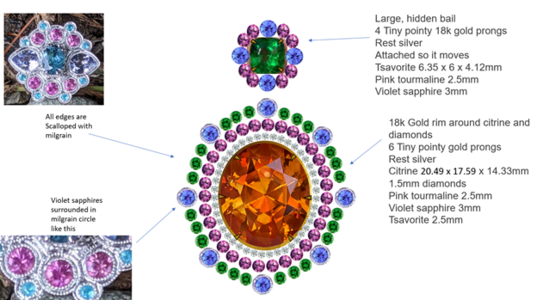 I also asked them to make a decorative basked on the back like this: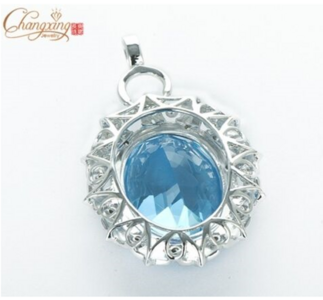 I worked with Cherry at DiamondMounts. She was super helpful, responsive, and easy to work with. They changed the diamond size to 1.4mm but otherwise my design worked. She quoted a number of different metal combinations and I wound up going with 18k yellow + 9k white gold because it was only a little bit pricier than 18k + sterling, and 9k gold is super durable. She didn't mind that I was going to supply all of the stones myself, including diamonds (I get all of my melee diamonds from K Rosengart, and they are superb and have the best pricing I am aware of.)
The CAD came back perfect on the first try, no changes needed: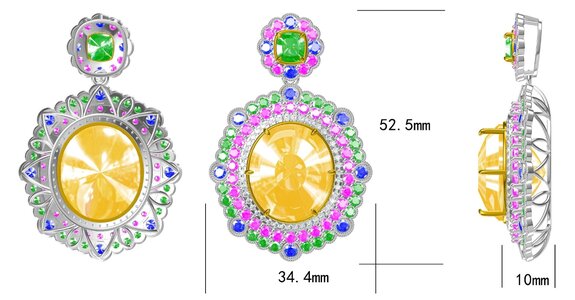 I shipped my stones to China, and then came the wait!
(continuing in another post due to # of image limits)