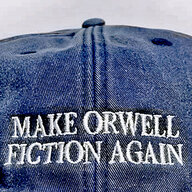 Joined

Apr 30, 2005
Messages

29,108
Like zillions of Americans my SO doesn't vote.
He doesn't care, blah blah blah.





Yeah he's a butthead on this, but I'm not going to dump him.
I finally got him to register to vote, but after ignoring it for weeks and finally glancing at the large mailing describing all of California's ballot measures and initiataves and judicial candidates, congress and the pres, he tossed it aside and turned on his TV.




He will not put any effort into learning anything beyond what's obvious to anyone with 3 brain cells, Trump = Hitler.
Now, here's the bombshell:
He told me to just fill out his absentee ballot for him with whatev I vote for, and he'll mail it in today.
I'm deeply conflicted.
One person should not get two votes, which (effectively) is what will happen if I do what he has requested.
On one hand, I'm like Yo Hoo! Kenny gets two votes.

On the other hand I'm tempted to tell him I won't do it ... in which case I'm certain he will not vote, which is one anti-Hiltler vote that won't be cast.
Question for our attorneys: Is it illegal for me to do what he has requested?
Question for everyone: What would you do?
Oh ... and ... am I the only one married to a bimbo?