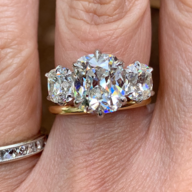 Joined

Jul 27, 2005
Messages

4,165
(Excruciating detail and photo overload ahead!)
Introducing my new love: 2.97 carat OEC from Old World Diamonds set in the "Brandie" solitaire by MarkT/ERD/Brilliantly Engaged. But I just think of it as my "baby Valmanin" ring, hehe. This was a very special gift from my husband in celebration of a milestone birthday. I'm head over heels! It's totally ME and really reflects my style and taste.
A thousand thanks to Adam at Old World Diamonds, Mark T at ERD/Brilliantly Engaged…and the original muse behind this solitaire design – Valmanin!
DIAMOND:
Vendor: Adam at Old World Diamonds
Lab: GIA
Specs: 2.97 carat OEC, L color, SI1 clarity, Good polish, Fair symmetry, no fluorescence
Measurements: 8.88 x 8.97 x 6.05 mm
SETTING:
Vendor: Mark Turnowski at ERD/Brilliantly Engaged
Style name: "Brandie"
Metal: 950 platinum with ruthenium
Shank width: 1.8mm from 3 to 9 o'clock, pinches in to 1.4mm at the head
Shank depth: 1.75mm
Diamond set height: 8.7mm from table to bottom of shank
Basket diamonds: 6 stones totaling .07cts, H/I VS
Ring size: 3.75 on a size 3.5 finger. I wanted the option to stack!!
JOURNEY:
There were three diamond shapes on the table: emerald cut, asscher, and OEC. I love all three, but ultimately decided that ECs and asschers will be longer-term goals. Having seen the parade of antique beauties here over the last few years, and since I am a sucker for FIRE, I knew it had to be an OEC. (I know, I'm late to the party! I'm always about 3 years behind Pricescope trends)
I entertained several setting ideas, but when I saw Valmanin's amazing solitaire by ERD, I knew it was The One. It perfectly met my criteria in how clean, minimal, and refined it was. But let me back up a little for context: I still have my original e-ring (poorly cut 1.3ct MRB) and also a beautiful hand-forged cushion halo by Mark T. The cushion is stop-in-your-tracks gorgeous and gives me warm fuzzies every time I wear it. I will never, ever, ever sell it or trade it in. But, I only wear it for special occasions (or around the house when I want to admire it in private) because the stone is pretty large, and with the halo it makes a dramatic statement. So this time I was craving something simpler and more wearable with my low-key lifestyle -- something I wouldn't feel self-conscious wearing around my coworkers or when picking up my kids from our modest school.
I was excited about the OEC hunt, but a little nervous since this was uncharted territory for me and I wasn't sure how I'd respond to lower color stones. Many thanks to Erica at LAD and Grace at JBG for being so kind and responsive to my inquiries, but ultimately I ended up purchasing from Adam at OWD. He's been in the business of antique stones forever and has an awesome trade-up policy (thank you, Mara, for pointing it out in one of your threads!). He's also a really nice and helpful guy.
Adam sent me several stones to review over email: some basic photos, GIA reports, and videos. My search criteria was 2.25 to 3.0 carats, K/L/M but white face-up, eye clean, FIERY. He was very responsive to my frequent and annoying requests for more information, and it never felt like I was bothering him, nor did I ever feel sales pressure. He just wanted to help me find the right stone regardless of how long it took. After spending the summer contemplating various stones, we settled on this one. It was the right balance of color, size, and fieriness.
It is not a perfect stone. It qualifies for the scientific technical term used by fellow Pricescopers -- "wonky." As expected of a 100-year-old stone, there are minor nicks and abrasions on the girdle (visible only with a loupe, or via zoom/macro camera shots if you have really great eyesight!), but Adam assured me there were no structural risks. The faceting may not be as orderly or photogenic as other OECs seen around here. And in some lighting conditions, if you squint your eyes and look hard for it, there are a few facets around the edges that don't flash like the others. But the stone was cut using hand tools a century ago, so to me, the 3 or 4 quiet facets represent its rustic, old-timey origins. I love that authenticity.
Also, it's just a hair under 3 carats but not as spready as other OECs of the same weight – I believe the spread is closer to that of a typical 2.4 or 2.5ct OEC. I surprised the holy heck out of myself by not feeling bothered by that –- some of you know what a shameless size queen I am!!!
But it's a large stone by anyone's standards, and something about it called to me. As others have observed, OECs have character with a capital C! This one is super lively, has a creamy profile but faces up white or rainbow, and is a total chameleon. Depending on the lighting, she can either be a demure little lady in winter white, or a giant blazing orb of multi-colored sparks. I love that about her, and I just think she looks
right
on my hand.
By the way, when Adam sent me the stone, he also included a second OEC of the same size and price for me to consider. It was M color and around 2.6ct, if I recall. Adam described it as a "cleaner" stone, and indeed it had better clarity and its girdle was in pristine condition, but…it didn't grab me. I took both stones to a meet-up with dear friend Gypsy, who brought her ASET. Even though the M stone was stunning and had a better ASET, we both agreed that somehow it wasn't as lively or interesting as the L. Funny how OECs are unpredictable that way! I was already leaning toward the L, but getting Gypsy's honest, no-nonsense opinion convinced me I was making the right decision. Specs and tools can be helpful, but mostly you just have to trust your eyes. ☺
Onto the setting. I've owned custom solitaires before but they didn't make my heart sing or there was a structural issue or whatnot, so I'd re-set it repeatedly while experimenting with different heads and shank widths and so on. (my avatar picture shows one of my old solitaire settings. I should probably update that huh??) Finally I gave up and just went with a 3-stone setting. (and what a fine Leon setting it was!) Now I know why those previous solitaires never stuck. They weren't "alive" like this one! It sounds crazy to say this but when I look at the ring, it looks like it's in motion. It has a gentle and fluid visual rhythm. It is impossibly delicate while not looking or feeling flimsy. The head-on perspective shows how dainty and almost-razor thin the pinched shank is. (It's even thinner than my Tiffany knife-edge band) There are no flat lines -- just graceful, lazy curves. The prongs look organic in the way that they gently cup the stone. Even the height of the stone (I requested "not too high, not too low") and the way the shoulders rise up gracefully is so aesthetically pleasing to me. Mark T totally NAILED IT. This ring makes my heart sing, and it's the perfect home for this stone.
Anyway, CONGRATS if you made it this far. Sorry for my dry wrinkly hands! Posting the first four pics now….