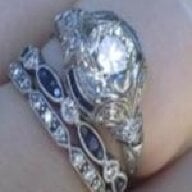 Joined

Aug 25, 2009
Messages

7,863
I hope I'm posting this in the right place and if not then my apologies in advance. I will ask the mods to please move to the correct place.
I want to first say that I have always appreciated vendor reviews on PS before so I will try to keep this as fair and accurate as possible. I will say that I am NOT looking for any resolution or way forward. I have accepted everything and I'm just going to let it go. Now with that said.
I contact Sally last year to make a pearl and gemstone bracelet for myself. I had all the pieces I just needed her to actually make the basket for the gemstone and to piece everything together. I gave her creative freedom but had 1 stipulation- that there be no hearts. This was March 2011 I believe. Sally sent some drawings with a wonderful motif that I just loved. I approved the design and the bracelet was completed a short while later. When it was sent back to me- the first thing I notice when I take it out of the box is out high the gemstone sits up off the wrist- around 17mm if not more. The way Sally attached the pearls to the bottom of the basket (I thought she would do it midpoint) not only made the bracelet sit up high, but it looked extremely awkward- almost unwearable. In fact I never actually wore it. I took it out to show a few friends and they all mentioned how the gemstone sat making the bracelet look like custom jewelry. It also made it irritating to wear as the weight was very top heavy and it would pull away from the wrist.
I didn't contact sally because I knew some of the fault lay in the fact that the gemstone was large at 72ct - which was a temp gemstone as I looked for a more suitable aqua. I put it to the back of my mind with some notes on how I wanted to correct everything. We were moving and having a baby so everything had priority over this. Fast forward to this year and I contact Sally about redoing it with a 6ct aqua I found. I tell her how the bracelet really isn't wearable because the basket and gemstone sit so high off the wrist. I also tell her I want to keep the current motif if possible. I know it will be scaled down but I really like it.
Something around 4-5 weeks go by and I hear nothing from Sally. I'm surprised when she sends me final pictures as I never heard back from her on what was going on with the motif. Of course I immediately put it on PS before I really start looking at the pictures and literally my heart drops when I see the heart design on the sides. I don't mean to sound picky but I hate heart designs on jewelry. It reminds me of an old boyfriend that I would rather forget. Plus I like my jewelry to be more classic and with elegant lines...hearts just don't translate with me.
The other thing I have an issue with is that the heart has a cross in it. It is actually a French symbol having to do with Mary I believe. I have a huge problem with this as I don't want religious symbols in my jewelry especially when I'm not Christian and this bracelet is meant to be passed down to my daughter and her daughter etc. When I contacted Sally about all of this she sent back a very flowery email about the wonderful symbology of this symbol and it's Catholic (?) background. I emailed her back more firmly that I was not happy about it and she should have sent me new sketches if she were changing the design and why I earth would I want a Catholic symbol in my bracelet if I didn't actually request it?!?!?! I asked her to once again redo the bracelet with either the old motif or if that wasn't possible with something else that didn't have hearts and crosses on it. Her response back was very polite but brief. She would not recast the basket unless I now paid a 3rd time to have it redone. That she hoped I learned to love it and at least this one was more wearable then the first. Now I have literally tripled my budget for this bracelet and spent a few thousand dollars on it to once again have something that I just don't love, but I want to love it. I love it from the top down but every time I see the heart I literally just starting rolling my eyes at this entire situation. There are also a few other structural issues with this bracelet. The pearls have large gaps between the last one and the basket on 1 out of the 6 strings. Also one of the corners that holds down the aqua doesn't actually touch the aqua. The workmanship on my topaz version of this bracelet didn't have any of these problems so I'm guessing it was a new person who did this version.
I take complete responsibility for not communicating better with Sally this time and setting expectations. I should have told her I wanted to approve the sketches etc… I thought she would remember from our first go around that I did not want hearts. I probably could have pushed the issue more with her but have decided after talking to my DH that when we go up to NY this summer I will have a local person there that I like to work with remake the basket. It will take 3 times to hopefully get this right…taking my original budget is well blown over. However, with that said I won't be using Sally again for anything else. I just can't believe she didn't let me know about changing the motif and approving the new version…plus why on earth would you put religious symbols into what would hopefully be an heirloom piece of jewelry to someone who never asked for it.
Well if you made it through this long post, I just wanted to say thank you for reading. I also want to reiterate that I like Sally and her design style. I think she can be fabulous to work with and does make great pieces. It just didn't happen for me with this piece.