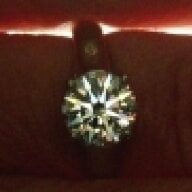 Joined

Jan 13, 2006
Messages

24,427
This post is kind of long, so you antsy pants might want to scroll on down to the pics.


For those that don'tknow the story, my grandmother left me an Aquamarine ring when she passed away 33 years ago. It was quite large for my taste, and I didn't wear it that often because of it. After coming to PS, and seeing Richard Homer'srecuts, I began to entertain the thought of having him recut it. I finally made a thread about that, about a year and a half ago. It was the overwhelming sentiment to not recut it. So, I sat on it for another year, still wanting to, but trying to love it as it was, which proved impossible. When a classmate of mine died last fall, I said to my husband, "Before I know it, I will be laying on my deathbed, wishing I had recut this stone". Life is short. So with that, I told the old girl she was getting a face lift.
I sent her off the last part of last October, and Richard worked his absolute magic. Because it was shallow, the only shapes he could do were square, round or cushion. As much as the cushion sounded lovely, I adore square cuts, and had already decided to keep it as close to the original (rectangular) emerald cut as possible. So a stunning square emerald she became. It is very diamond like, in that it has many moods/looks/shades. Stunning, just stunning. I couldn't be happier. Kudos to Richard!!
As some know, I had sent it to Quest to be set, they were doing something custom for me. Unfortunately (or so it would seem), it didn't go well. I ended up bringing the stone back home without the setting. Back at square one, I decided to do what I had originally wanted to do, send it to Leon Mege. I had abandoned that notion for a couple reasons. But something said "do it", so I did.
I had wanted a plain band with 4 prongs, no basket. This stone catches so much light, and can be so firey, I wanted as little metal as possible. He said with the stone a bit on the larger side, it wasn't as safe. Not an absolute no, but he didn't recommend it. He recommended the simple solitaire path, and at that point I said to do whatever he felt was best for the stone. Outside of agreeing it would get claws (though I didn't know how many), not a super thin band, and showing him a couple prong pics for curve, I basically gave him carte blanche. Let me tell ya, for someone who likes to be in control, it was a rather liberating experience! All you control freaks should try it. lol
Leon came through just as I expected, the setting could NOT be more perfect. I love everything about it, from the swoonable profile, to the prongs that swoop up and meld with the corners. It's so comfy, I hardly know it's on, which is how I love my rings. What can I say, I'm in love!! And I have enjoyed this ring more in the last few weeks, than in all the years I've had it, seriously. I am SO glad I did this. It's even more precious to me than it was.

Funny how things work out sometimes. I ended up with exactly what I had wanted in the very first place.



I will do a lengthy review of the entire journey sometime in the future. My uncanny knack for having bad luck with jewelry managed to follow me through this process as well. So I will leave everything else for that, and this will be a happy thread!
I must take a moment to thank the sweet gals who helped keep me sane, answered questions and gave advice behind the scenes. Without them, this would have been even harder than it was. So a huge Thank You, to Lorelei, ds, Kaleigh, DeeJay, mrss, Skippy, Alj, and last, but certainly never least, Harriet.
I will post a pic of the original ring for comparison. The stone was approximately 5.33 cts., measuring 13.6 x 9 x 6.4. After recut, it is 2.88 cts., measuring 8.34 x 8.20 x 6.24. Perfect size, for me.
Now, on with the show! Oh, and guys, you know how we're always telling people we can never have too many pics? Well, I hope "we" really mean that, as I am posting with reckless abandon today! This is my last hurrah for a very long time.

Original ring.