When my wife and I started shopping for a sapphire, we thought we'd pick a cornflower blue, ~1ct stone.
We ended up with a blue-violet, 1.9 ct, overrsaturated stone. Whoops.
But we're really happy with our purchase.
Started out ordering online, but quickly realized that I was too picky to order off the internet. Went in person to several NYC gem dealers. Ended up buying from Natural Sapphire Company - I know they're controversial on here, but they had the prettiest stones and not only were they price competitive, they were actually priced under a few other options that I would've expected to be cheaper.
Stone is a the least Ceylon-looking Ceylon sapphire ever. Heated. Intensely saturated to a flaw - the tone is too dark. But it doesn't black out in incandescent light, and when it catches the light the blue flash is utterly electric. I've never seen a stone like this - the closest I can describe it is like a true D-block tanzanite, but on the bluer side of the range of those, with all the flash and sparkle of a sapphire. Minimal color shift. No face-up zoning. Strong pleochroism (see one of the pictures below). Native cut, but little wasted weight below the girdle and critically (given the dark tone) no window.
Regrettably, I didn't save the picture from the NSC website, but I can report the picture was several ticks too light but spot on in terms of saturation.
Pics or it didn't happen? OK, pics.
Next to a north-facing window, cloudy day: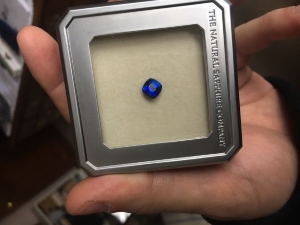 Incandescent, medium bright room: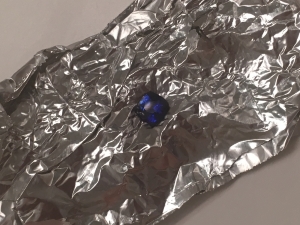 Incandescent, showing the worst it ever looks when the saturation is too much for the ambient light: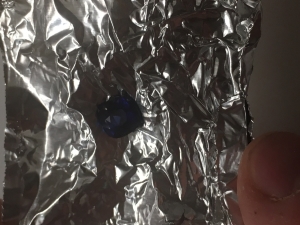 Strong pleochroism!