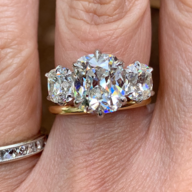 Joined

Jul 27, 2005
Messages

3,729
Hey, PSers!
This thread is a bit overdue since I've had this ring for almost 2 months now. Sorry for going overboard on the pictures/videos but I'm just thrilled with this re-set!
BACKSTORY:
Since 2016 or 2017 I'd been feeling the urge to re-set
my halo'd old mine cushion
into a 3-stone. After going back and forth with myself on side stone shapes -- I considered frenchies, OECs, half moons, Peruzzis, rose cuts, even briolettes -- I finally settled on old mine-cut cushions to match my center stone. I adore the kozibe effect and can't get enough of it!
I knew I wanted the stones set in Caysie's glorious
Maria
design, but with a few tweaks to make it mine. We started talking about it in November 2018. It was our first time working together and we got along great! Caysie was really adept at understanding my ideas, advising and answering questions, and translating my ideas into CAD form.
As for the side stones, it took a loooong time to source a matching pair of antique cushions! We approached just about every vendor you'd think of but matching pairs are so hard to find. We even considered asking Yoram to cut a pair for me but sadly that was outside my budget. It turns out that Mark Turnowski (who sourced my center stone back in 2012) came through with an absolutely beautiful matching pair of true antique cushions at a fair price. I hadn't thought of Mark as someone who'd be tapped into the antique stone market but he's been in the diamond biz forever and knows everyone, so it makes sense he was able to deliver!
I sent the stones to Caysie at end of April and received the finished ring about 2 months later, but noticed that the prongs weren't quite as sculpted-looking as I was hoping. I shipped it back to her in early August for the prong tweaks, got it back about 4 weeks later, and...it was PERFECT.
SPECS:
Center stone:
I VS1 3.14ct
Modern stone cut in antique/old mine cushion style (2010 GIA report calls it an Old Mine Brilliant) - sourced by Mark T of
Brilliantly Engaged
9.44 x 8.04 x 5.58mm
Side stones:
H-color, 0.88 ct each, one is VS1, other is SI1
Old mine cut cushions (true antiques) - both sourced by Mark T of Brilliantly Engaged
5.80 x 5.47x 3.72mm
6.01 x 5.47 x 3.67mm (yes, they're slightly different sizes but you can't tell unless you're *really* looking hard!)
For those interested, the
diameter ratio
of side stones to center is 65.1%.
Setting:
Modified "Maria" by Caysie van Bebber
I requested that the stones look somewhat *separated* as opposed to a seamless wall of bling.
Platinum prongs
18k yellow gold triple wire shank
Ring size:
Size 5 with sizing pads (fits like a 4.75)
My finger size is 3.75 in cool weather, 4.75 in warm weather
PHOTOS AND VIDEOS:
Now for the shameless avalanche of photos/videos! Aside from some cropping, none of these photos have been filtered or edited. The diamonds may not be 100% clean in every shot (doh!), but you'll get the gist. I tried to capture the ring in various lighting conditions. First up are detailed shots of the ring on its own. Then you'll see shots of the various stacks I like to wear. Thanks for reading and I hope you enjoy!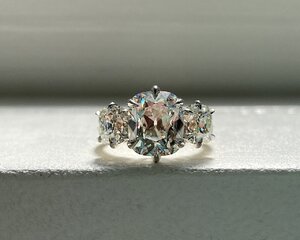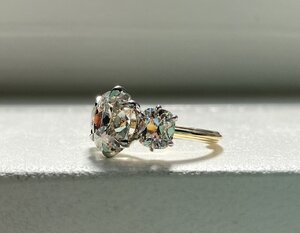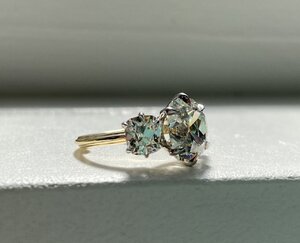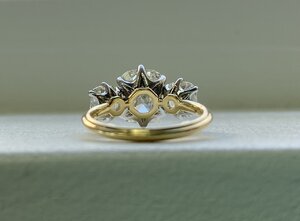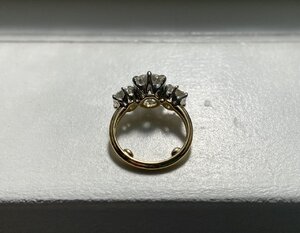 Stay tuned! More photos and some videos to follow.....