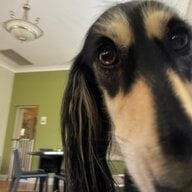 Joined

Jan 22, 2014
Messages

4,717
Rainy Sunday, it's a stay home day.
I bought a really sweet necklace with a carved Jade centre piece. I knew that the chain was never going to last long - a) it was only like 1mm wide and b) it was a box link which cant be easily repaired if it breaks.
It broke and I'm thankful that I didn't lose it.
I looked online for a new white gold chain and of course gold prices are through the roof and the prices are eye watering. Its not a piece I wear often, so not really worth further $$$ investment as the colour disappears on me, but I like it.
Rummaging through my box of items that are supposed to be listed for sale (yeah, I know, eventually I'll get there) I reconnected with an aquamarine facetted bead necklace. It's just a tad too short to be comfy so I can't wear it.
I think I have a solution, two pieces not wearable turned into something pretty.
Be back later with the completed project.