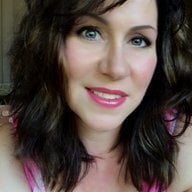 Joined

Nov 28, 2008
Messages

1,673
My husband and I celebrated our 15th wedding anniversary this past June. As a way of marking the occasion, we decided it was time for some big bling that wouldn't break the bank. I have two gorgeous round diamonds, a .67ct in a Vatche Grace halo, and a 1.27ct in another Vatche design. I wanted something big and different, in a setting from the era in which my husband and I got engaged, that I wouldn't have to worry about as much as I do my treasured diamonds. I lost a 1.61ct round diamond 14 years ago, and it's not something I ever care to repeat. Insurance can't replace sentimental value, so I am very overprotective of my ideal cut diamonds.
Seeing gorgeous designs on the daily makes me a little indecisive when it comes to something I could commit to for many years to come (read: PICKY!)

After many years of delicate (which I love on the daily for how comfortable they are), I wanted bold. I still adore my narrow rings, but wanted something typical for the area I grew up in (northern Bergen County, NJ), and that's exactly what I found! The semi-mount is an invisible setting, with two carats of natural diamond princess and emerald cuts in 18kwg. The band is a temporary band until another big occasion rolls around and I get a matching band custom made, but the mix of cuts is growing on me. I think the band has somewhere between .75 and a carat worth of rounds, but the reason I chose it (second hand, and relatively cheap) was because I needed a bolder band that had some height to go with the new semi-mount. The center stone is a 4.85 carat, F-Internally Flawless princess cut Amora Gem measuring a little over 9mm. Despite the ease of picking out the semi-mount once I stumbled across the right one, there is always the whole anguish of having it sized, getting the right head, waiting for the stone to be set, etc. I look at it this way - doing a project of my own every now and then keeps me grounded and allows me to feel my client's pain as they wait for their own treasures.
In this shot, the stone is reflecting the colors of my shirt, which was a white background with mottled red, orange, purple and black spots.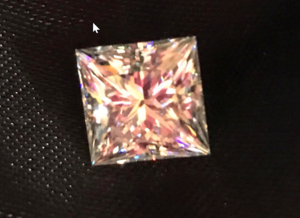 Finally, the ring...
Bright sunlight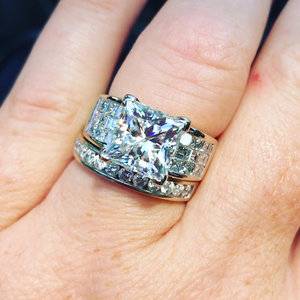 and while waiting for the kids' bus.