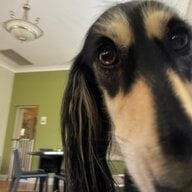 Joined

Jan 22, 2014
Messages

5,217
Well, another day another jewellery delivery. Woo Hoo.
I didn't know opalescent sapphires existed let alone that I MUST have one, but here we are.
Im an eBay shopper, not at all familiar with Etsy and how you can judge the reliability / quality of items if there's only positive reviews posted. With eBay, as a buyer, it's easier to research the sellers history and previous sales.
Nevertheless in I went.
I only spent $100 on the sapphire, best to be cautious with new adventures. Then I realised I needed a setting. I browsed eBay for both new and preloved ring mounts and figured that with setting costs here ($50) and rehab if a pre loved setting ($100 or so) maybe getting the Etsy vendor to set the sapphire would probably be most economical. I enquired. I received a quote of $480 for an 18ct white gold ring, size 8, with a diamond halo. No mention of diamond size or quality but "in for a penny, in for a pound".
My expectations of both the sapphire, 2.11 carats for $100 and a $480 setting were modest. I'm a realist.
well, what do you think?
Ring weight is 4.3 grams 18ct so that's decent heft. The diamonds are white and eye clean and the setting, while simple well executed and finished.
Very happy with my new ring.