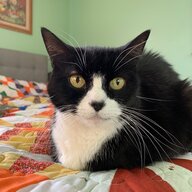 Joined

Aug 14, 2018
Messages

3,940
Ok so I didn't know whether to post this in colored gems, SMTB, show me your Daniel Ms etc. but settled on Antique and Vintage because I love this forum and I used old zircons from some vintage pieces. I was inspired by this vertical ring with transitional diamonds that I loved, but of course this ring was $$$$. And I thought of trying to re-create it by perhaps matching tranny diamonds, or having two euros with a ruby center, etc etc but it seemed a monumental and also very expensive task.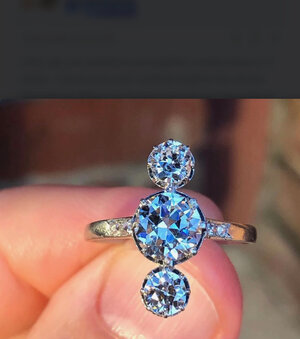 And then I realized if I were going to have another diamond ring I would go for more of a classic look anyway. So I thought - blue zircons! Many of those were transitional cut, and they have so much fire for a gemstone. I was inspired by
@Polyhex
's past projects with zircons as well as
@dk168
's. So I went looking on Etsy and found these (don't hate me that I took the settings apart!) vintage beauties: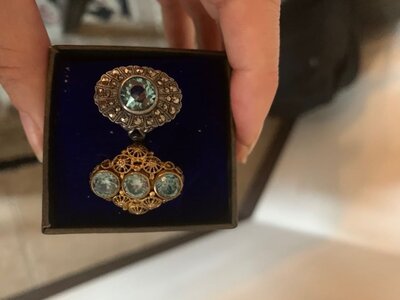 I figured I could take the bigger one from the marcasite setting and flank it with two from the three stone, and I would have a similar looking ring. I reach out to Dan based on previous recommendations of his work as well as his affordable pricing. I have to say he really came through. I am thrilled with the result. I realize that the vertical look may not be everyone's cup of tea, but I find it eye-catching and fun! Here is a video from my IG that really captures the sparkle:
Welcome back to Instagram. Sign in to check out what your friends, family & interests have been capturing & sharing around the world.
www.instagram.com
As well as some more pictures. Side views are so hard to capture because it pics up the color of my shirt and my phone case! Gah! But hopefully you get the idea.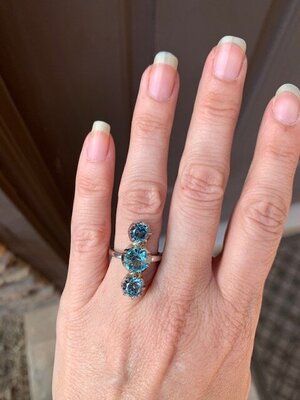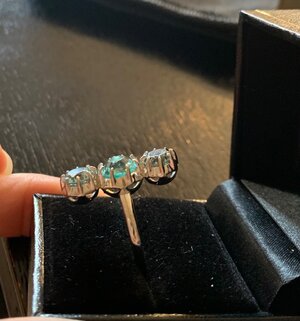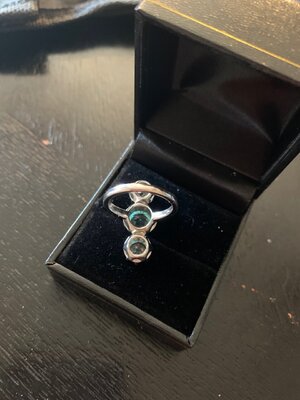 I love the blue color and the sparkle!