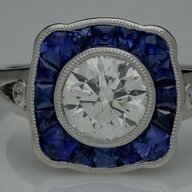 Joined

Nov 1, 2007
Messages

3,370
I bought this from MC. Specs are a little over 1.5 carat color red(pink), slightly included, moderate saturation. I was sooooo disappointed. I like the color. It is a mix of pink, orange, red and I think I see a smidge of purple. In low light it glows but not so much in brighter lights or outdoors. My first inclination was to return it but I asked Dana to recut it for me and he as graciously said he will.

I am so happy and grateful that he is taking the time to do this as I know he must be very busy.
So what do you guys think of the color? It is so different from my other Mahenge spinel which is pure pink. I am trying not to compare this stone to the other as I know Mahenges come in different shades and hues. Do you think the new cut will breathe life into this stone? All opinions welcome.