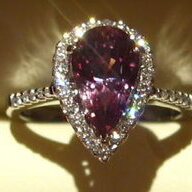 Joined

Jun 29, 2008
Messages

9,918
After plunging back into the gemstone world, I decided I needed a gorgeous vivid blue sapphire in my life! I looked around for ages and found so many Instagram sellers selling vivid gemstones that I got a bit worried because everything seemed too good to be true. Anyway, to cut a long story short, quite by accident I was browsing online and found a seller that was unknown to me and he had my "dream" sapphire. Smaller than I wanted but oh my - the cut, the colour!!!!!!! Of course I did my due diligence and searched for the company in PS but couldn't find much - so I was still nervous.
I was so so so worried by using a seller I haven't dealt with before but decided to make an enquiry. I contacted Adamantgems via their website to enquire about "my precious"! Ivan, the owner of Adamant International Ltd replied, answering all the questions I had sent him plus more insights. As I was worried how the sapphire would perform in dreary grey conditions (ie the UK), he sent me about 10 different videos of the sapphire using all different lighting conditions, inside, outside, bright sunlight, shaded etc etc. He told me all about the sapphire and how they had recut it and anything I wanted to know Ivan helped with. I have NEVER had such phenomenal customer service. There was no pressure to buy and Ivan told me not to worry about making an immediate purchase and to take my time making the decision. Honestly, I think this was the best gemstone buying experience I've ever had.
At every step of the way, Ivan kept me informed - the packaging, the sending to the courier, the tracking etc etc. and unbelievably the sapphire arrived in less than a week!
I'm having CADs made at the moment and it's likely to be a 5 stone ring with slightly smaller ovals to each side and then rounded trilliants on the outside. I need finger estate and so getting this with such a small stone is a challenge as I didn't want a halo. So, here is my precious! (Please excuse my old wrinkled hands)! Final photo was taken from Ivan's website as it shows the beautiful cut so well.