Hi!
Here's my previous thread commenting on how great Wink is! (
https://www.pricescope.com/community/threads/trade-in-upgrade-success-with-hpd.247646
). He sent my new CBI (1.13ct, F, SI2) to DK a couple months ago to set into a new engagement ring.
DK has been great! We went through several CADs and a lot of emails back and forth to get to the final result! He was always very patient and accommodating! I received the ring on Friday and love both the diamond (first time seeing it!) and the engagement ring.
I haven't seen the diamond in many light conditions yet, but I've caught sight of the pastel colors and blue arrows it's throwing off, and I cannot tell it's an SI2. I would say my eyesight is bad, but I attribute it to how well CBI plans the inclusions in their diamonds! I am so glad I decided to go for the SI2 so I could go up to the F color!
I love the e-ring David made. The engraving is fantastic, milgrain is perfect, and I love the gallery/basket. I couldn't be happier with it and can't wait to do another project with DK.
Now for some pictures! First up are a couple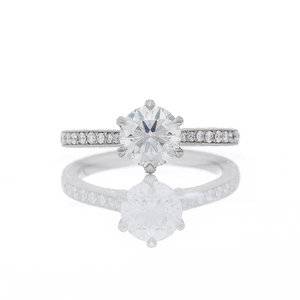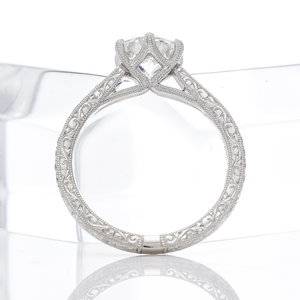 of the glamour shots from David (which don't really do it justice)