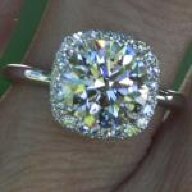 Joined

Sep 22, 2013
Messages

325
If you are not in the "reading" mood feel free to move down to the stats and/or pictures
The Diamond
I was on the search to replace my lost eternity band and engagement ring. I knew I wanted to stick with a 15 point full eternity but wasn't sure on the setting. I stumbled upon the Annette U prong at
Whiteflash
(once again thanks to PS) and fell in love. I figured it made sense to also purchase the diamond from
WF
as I knew I wanted top cut, didn't want to spend the time sorting thru tons of diamonds as I am far from an expert, and
WF
had stellar reviews on PS. In the end I purchased a 2.076 I VS2
ACA
. Liza and
WF
were awesome to work with! Liza was thorough, patient, and quick to respond to my many inquiries! As I mentioned in my eternity SMTB thread,
Whiteflash
has a VERY solid operation going and I would not hesitate to do business with them again. Both the eternity band and diamond wowed me!! While I never had any complaints (or new much better) about my original set these
ACA
diamonds are definitely on another level

The Setting:
I was so close to pulling the trigger on a classic, solitaire setting from
Whiteflash
(similar to my original ER) but I backed out last minute. I previously had a 1.5 ct in the round
Victor Canera
Emilya setting. I had remembered a veteran PS member mentioning in one thread that I may be disappointed in the finger coverage if I went back to a solitaire; even though I was going from 1.5 ct to 2 ct. Pretty sure she was right so thank you (DS). After going back and forth many, many times over 4 months...it's SO hard deciding when you see so many stunning rings on PS…I decided I wanted a very delicate cushion halo with a plain shank. I felt the plain shank would give me the feel of a solitaire and the delicate halo would give me the little extra pizazz and finger coverage I was looking for. Knowing that I was very happy with my previous Emilya I decided to go with
Victor Canera
again. Plus, twosanguinehearts two row cushion Emilya was one of my inspiration rings. Both Paige and Victor were a pleasure to work with, always so quick to respond to any questions I had. And I have to give major kudos to Victor. I had asked if there was any way he could have the ring to me in 3 weeks. My husband and I were going to Bermuda for our 10-year anniversary and it would mean so much to have an engagement ring back on my hand. I received the ring exactly 2 weeks from when I wired the deposit. My husband opened it first and was blown away with how gorgeous and dainty the ring was. As was I! I was ecstatic to say the least!! This Emilya was certainly more delicate than my previous one, and the most delicate I have seen IRL. And I'm glad it came early because it was very difficult to get the ring past my knuckle on my left hand. I guess the summer humidity and my knuckle must have gotten bigger. I called Victor and he said not to worry, he would take care of it immediately for me. I sent it overnight and he had it re-sized and sent back out the same day he received it…the day before our trip

Such a great, genuine guy!!
General Observations:
-I don't know how Victor does it! I know some people are probably sick of hearing it, but he is truly an artist. It blows me away how he is able to get that teensy melee and all the details so perfect.
-I truly enjoy getting lost in looking at my diamond. The pattern/faceting and crispness are so cool. Def. very different than my original 1.5 CT H SI2 "very good" cut
-I adore the clean, crisp contrast of the plain shank. Victor went thinner than the typical 1.9mm Emilya shank as there was no melee and I had asked for a delicate ring. I love how sometimes it feels like the diamond is floating on my finger.
-I
really
love the two row or side pave halo. I love seeing the side halo when looking at the profile (which is often) and I also feel like the side halo gives the cushion a softer shape. I see NO metal except for the shank (and in many lighting scenarios I can barely see those tiny claw prongs).
-I was adamant that I wanted a very soft cushion halo, nothing squarish, and Victor did exactly that!
-I don't think there is a huge difference in the overall finger coverage from my previous ring (which I am OK with) but there is a big difference in presence since the center stone is now a 2 ct ideal cut
ACA
.
Overall I am over the moon with my new diamond and setting and feel like I made the right decisions for me. The sparkle factor is awesome. Victor nailed it when I said I wanted a very delicate setting. I never imagined owning such a beautiful piece of jewelry. I'm hooked…all thanks to Pricescope

Now on to the stats (if you have made it this far!!)
2.076 ct I VS2 A Cut Above Hearts & Arrows Super Ideal Round
Measurements 8.20x8.22x5.07
Depth % 61.7
Table % 55.6
Crown Angle 34.3
Star 50.0
Pavilion Angle 40.9
Crown % 15.1
Lower Girdle % 77.0
Victor Canera
Emilya Two Row Pave Cushion Halo
Plain Shank (1.75mm), melee on stems and donut (so glad I decided to go with melee here)
Single cut melee
I'm not sure of the melee size but I would imagine definitely no larger than ½ pointers. To give you perspective the total setting is
.30 ct...very dainty.
Size 4.5 (to get past my knuckle)
Thanks for viewing. And thank you PS for all your education and inspiration!
Oh, and of course many of my pics are from the Bermuda trip