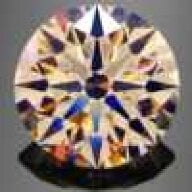 Joined

Jan 26, 2009
Messages

360
Do you have a favorite store that you like to shop at just for the pleasure of the experience? You stop in and browse around even when you don''t actually
need
anything? That''s what
Brian Gavin
Diamonds is like for me...I had such a great experience buying my 1.74 RB that I decided I really NEEDED some diamond studs!
I saw two diamonds in their inventory that appeared to be a great match in table size, depth and lgf% - one is an H and one is an I but I can''t tell them apart for the life of me! Lesley assured me that they were a perfect match so I went ahead and pulled the trigger.
I really love the delicate look of Leon''s martinis and asked if they could use his design as the inspiration for my platinum setting. They came out beautifully!!!

Here are the diamond specs:
AGS#: 1040375560008
Report Type: The Platinum Light Performance Diamond Quality® Document
Shape and Style: Round Brilliant
Measurements: 5.97 - 6.00 x 3.65 mm
Cut Grade: AGS Ideal 0
Color Grade: AGS 2.0 (H)
Clarity Grade: AGS 5 (SI1)
Carat Weight 0.793
Fluorescence: Negligible
Comments:
Light Performance: 0
Polish: Ideal
Symmetry: Ideal
Table: 56.0%
Crown Angle: 34.3
Crown Height: 15.1%
Girdle: Faceted, 1.2% to 3.4%
Pavilion Angle: 40.7
Pavilion Depth: 42.9%
Star Length: 58%
Lower Girdle Length: 77%
Total Depth: 61.0%
Culet: Pointed
AGS#: 1040375560007
Report Type: The Platinum Light Performance Diamond Quality® Document
Shape and Style: Round Brilliant
Measurements: 5.98 - 6.00 x 3.64 mm
Cut Grade: AGS Ideal 0
Color Grade: AGS 2.5 (I)
Clarity Grade: AGS 5 (SI1)
Carat Weight 0.795
Fluorescence: Negligible
Comments:
Light Performance: 0
Polish: Ideal
Symmetry: Ideal
Table: 56.2%
Crown Angle: 34.3
Crown Height: 14.9%
Girdle: Faceted, 1.2% to 3.7%
Pavilion Angle: 40.7
Pavilion Depth: 42.9%
Star Length: 55%
Lower Girdle Length: 78%
Total Depth: 60.7%
Culet: Pointed