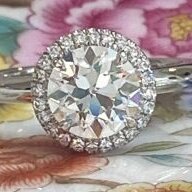 Joined

Jan 21, 2010
Messages

1,358
Since our anniversary is coming up, I have been on a search for the final setting for my OEC that compliments my lifestyle and personality for quite some time now. I was wanting something that was classic, a timeless halo, a statement piece. I don't have much finger space, so it had to be a ring that was not complicated and one that showcased my stone. I am drawn to open profiles so that I can see as much of my diamond as possible, and also make it easier to clean. In my search, I always stopped and adored the Harry Winston ring. So, there it was, my ring to be!
The next step was to find the perfect designer that I trusted to capture every aspect of what I was envisioning. That was the easy part, because since I worked closely with Maytal Hannah for my rings in the past, I knew she was the perfect artist to craft my HW ring. I contacted Maytal, and we exchanged over 22 emails discussing this project. I have to tell you, Maytal has a keen eye for detail such that I relied on her opinions of what would or would not be the best choice in attributes during the design process. In addition to her artistic gift, Maytal is extremely patient; a trait that I adore about her and one that I feel comfortable in knowing that she won't get upset after I once again change my mind on a detail.
The details of this setting are: hand-forged platinum, and all of the stones are ideal cut, high color, and VVS1 or better. When Maytal contacted me to let me know that my ring was finished, I was so excited that I found it difficult to sleep knowing my ring would be here the next day. I opened the box today, and I was stunned at how gorgeous my ring turned out! Every detail is perfect and the melee sparkle immensely, and my OEC was showcased beautifully! I could not be happier at how easy the process was, and the end product is pure perfection. Maytal captured every detail perfectly. Not only will I continue to go to Maytal for future projects, but I also consider this lovely lady a friend! She truly wants her customers to be happy with their purchases. The next time you are looking for a designer to craft your ring/jewelry, please consider Maytal. You will not be disappointed!
Now the best part. Pictures!