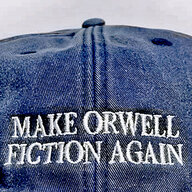 Joined

Apr 30, 2005
Messages

27,497
30 years ago I made my first lentil soup, just following the recipe on the bag of lentils.
I've been tweaking it since then, but never bothered to measure or write anything down.
A friend tasted it and wanted the recipe so when I made it last night I finally measured and wrote it all down.
It is a lot of work, but maybe you'll like it.
Cheap and healthy I usually have some in my freezer.
Kenny's Lentil Soup
Rinse 2 cups regular brown lentils in a strainer, put in a very large pot
Pour in two 32 oz boxes of Trader Joe's organic beef broth, AND 32 oz water
Add 3 large bay leaves
Soak in fridge several hours to overnight
Start by adding no salt since beef broth, toms, and chicken drippings have salt
Chop and add to pot:
10 oz of shallots, or one very large brown onion
The leafy tops and the entire center of a celery, save green outer stalks for later
1 lb fresh tomatoes
14 oz red potatoes, leave skin on, 3/4" cubes
3 Tbs Costco minced garlic
1 Tbs brown sugar
1 Tbs freshly ground pepper
(all herbs are dried and ground)
1 Tbs rosemary
1 Tbs oregano
2 tsp sage
2 tsp thyme
1 tsp Stubb's smoke sauce
1/4 tsp cayenne pepper
I often buy Costco's rotisserie chicken, then right when bringing it home while still hot, I pour out the drippings on the bottom of the tray, refrigerate it at least a day
When using it I discard the fat on the top
It's chock full of flavor much like bullion cubes or stock.

If you've saved it add those drippings
One ham hock, at four places around it I use sharp knife or razor to score completely through the skin
1 lb of Costco Master Carved Half Ham cut into cubes, strips, or triangles
Bring to boil, reduce heat to a very slow simmer,
just barely
simmering to prevent soup burning and sticking to the bottom, cover
Stir, and scrape bottom of pot with a metal spatula, every 15 minutes for 2 to 3 hours
40 minutes before done add:
1 cup of uncooked short grain brown rice or barley
25 minutes before done add 2 large carrots sliced 1/2" long at thick part and 2" long at thin part
15 before done, remove ham hock with tongs, cool with fan 10 min, discard skin, bone and fat, return good meat to soup
10 minutes before done add:
the 3 biggest greenest celery stalks, sliced 1" long at root end, and 2" at leaf end
one bunch of chopped fresh parsley, stems included
1 Tbs ground coriander
When done turn off heat and add:
1 Tbs lemon juice, stir well before adding ...
1/2 cup half & half
More of anything above, to taste, and I add another quart of water to get a soup, not a stew.
Adding this water
last
helps reduce cooling time.
Cooling in the large pot down to room temp takes too long, which allows food born pathogens to build up.
... and putting a whole pot of soup at high temp into fridge may harm your fridge, and may lower temp to unsafe to an unsafe level for the other food in there.
Though it's more to wash, I cool soup faster by transferring it to my two largest flat baking dishes, placed on cooling racks to let airflow underneath.
Then I use a small fan to cool to room temp faster, then move it to a large container for refrigeration.
It freezes well, though the carrots may get a bit mealy, so you might want to leave them out if that bugs you.
I put single servings in zip lock bags, squeezing out air before sealing, then freeze it.
It makes a zillion healthy quick meals to grab and microwave.
Last edited: