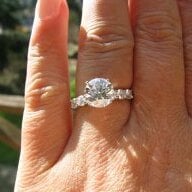 Joined

Oct 19, 2006
Messages

1,394
Sorry in advance for the length of this post,but I still am having a hard time believing everything that happened to us!
Well, it's been a few weeks, three to be exact, but I am officially MARRIED!!! For some background, we opted to go to Kauai to be married and honeymoon, just the two of us. I have a timeshare there, so we didn't need to worry about lodging. We put in our vacation and leave requests and bought our airfare way back in early January. We were to fly out Weds, March 21st and return on Weds the 28th and then have the remainder of the week off of work to get settled.
Tuesday when my then-fiance got to work, no one could seem to find his leave papers. He is in the Army and it appeared that the Army somehow lost his leave papers! His CO was out of town as was his squad leader and no one else would or could help him. The person that was left in charge said that as far as he remembered, my fiance was only supposed to be gone from Friday to Weds and he would only approve him for those days!

(I wanted to scream, "No you idiot - it's Weds thru the following Friday!" Well, my fiance got no where with the guy, and since my fiance had not made a copy of the leave papers (his mistake) we decided to go ahead and change his ticket to Friday. When we called the airline, they said there were no more coach seats left due to it being Spring break so we had to pay an additional $625 to upgrade him to first class!!! Okay, so I figure I can deal with that as long as he would be there on Friday. That would give me a couple of days to relax and expore the island on my own.
Weds I flew off to Kauai by myself. When I got to the timeshare, they had NO RECORD of my reservation. Great, I thought! Fortunately, they did have another vacancy, so I was able to stay there.
I talked to my fiance Weds evening, and he told me that he had to go out to the field on Thursday morning to help set up for a 36 hour exercise that was to take place while he was gone. When I called him Thursday evening his phone was off. I started freaking out thinking maybe he had been in an accident or even worse, maybe he got COLD FEET!!! I called him all night long and into the wee hours of the morning. When he didn't answer and the 8:00 am flight time passed, I was beside myself. I was seriously physically ill with worry!
I started calling my fiance's office at 9:00am when they were supposed to open up. The phones just rang and rang- very odd, I thought. I was in a panic so decided to call the Chaplain. I spoke to the Chaplain's assistant crying the whole while, and when I told her my story, she said, "Oh honey, you're new to the Army, aren't you?! The Army has a way of messing up peoples plans." She told me she'd see what she could find out and call me back. It was a long, agaonizing hour before I heard from her again. When she called back she told me she heard my fiance's unit was still out in the field. I asked her to confirm that he was actually with them and she said they were going to go see if they could physically track him down. About an hour later, my fiance called from the Chaplain's phone to tell me he was okay and that he had been stuck out on the field with no phone access!!!

Apparently, when they had gone out Thursday morning, they were told surprise, surprise, this is not prep this is the actual 36 hour exercise! He was fit to be tied and said thaat he just knew I would leave him over this (missing both flights and messing up the most important day of our lives). We were only able to talk for a minute and he said he'd call me back as soon as he could.
By the time I heard from my fiance again, it was late afternoon. He had finally obtained signed leave papers, so we called the airline back. Unfortunately they had no tickets availalbe for Saturday so he was not able to fly out until Sunday. Mind you, Saturday was our original wedding date

The new ticket cost us an additional $175. He finally arrived late Sunday afternoon and I was finally able to breathe a sigh of relief!!!
We were married on Lumaha'i Beach on Monday, March 26th at 5:00 pm. The ceremony was more than I could ever dreamed of. It has rained some off and on all morning, but as our ceremony began, a rainbow appeared overhead and the minister said that was a sign our marriage would be blessed!
It was beautiful - a combination Hawaiian/Christian ceremony. When he started saying his vows, I began to cry and tremble. When it was my turn, my voice was cracking and I could barely speak! It was just beautiful - a day I will always remember. So much so that all the struggle of the previous days didn't matter any more. We had a beautiful dinner afterwards at a lovely restaurant overlooking the ocean. The entire day was perfect.
I thought I could finally relax, but no, we had one more obstacle thrown our way! The night before were were to fly back home, the wedding coodinator called to say there had been a problem with the camera they used and she was not sure how many of our wedding photos they would be able to salvage. She asked if we could come back out the following day to do more pics. So, since we were flying out that morning, we got up at 5:00 am, put our wedding clothes back on and went and took sunrise photos on the beach!!!
So, what was supposed to b a stress-free wedding and honeymoon turned into anything but, lol! We can look back and laugh now, but I tell you, I thought I was going to lose it!!! Fortunately our wedding coodinator was very flexible and willing to work around our schedule. I'm just thankful everything worked out in the end

We are settling nicely into married life now, and I love being married!