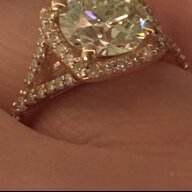 Joined

Sep 1, 2016
Messages

56
It's upgrade time! After spending literally hours reading about diamonds, looking at diamonds, and enjoying the serious bling on this wonderful site, I finally decided to plunge into the unknown. A few older threads about warmer diamonds caught my eye, and I found myself LOVING the older cuts and very warm colors, though I've never seen one IRL.
Well, that's about to change! Tomorrow this beaut should be shipping out to yours truly, and there are no words to express my excitement:
http://jewelsbygrace.smugmug.com/Loose-Diamonds/201-and-larger/260ct-Transitional-Cut-Diamond/
Grace has been so so wonderful to work with, and if this gorgeous rock is anything like the pics and vids she's posted, I am going to be one satisfied customer!
In the meantime, I wait. And wait. For FedEx to arrive and take/post pics of my own...