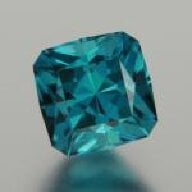 Joined

Jan 18, 2008
Messages

9,758
I am really ecstatic to be able to post this thread
Since I started buying CS seriously, I have always been after 'just the right colour' of blue-green tourmaline, but no matter who I emailed the rough was just never available.
After about a year of looking, I decided to go with something in a different blue instead and ordered my sapphire from JW.
When I decided to start looking again on a whim a couple months ago, Jeff was one of the first I emailed - and to my very pleasant surprise he had just gotten in a parcel of my ideal colour tourms; the rough is from the Afghan Gamata mine.
After some discussion back and forth on the size and design, I chose to go with a new cushion cut Jeff had developed for this material, in the largest size that was available, and the results can be seen below.
As always, Jeff was a complete pleasure to work with from start to finish, and thanks to him I now have my dream stone - cheers Jeff!

Vitals:
2.13ct
7.6mm (8.9mm corner to corner)
Treatments - none known
Origin - Afghanistan's Gamata deposit
The design is a cut-corner square cushion, featuring a chevron-style pavilion.
As always, Jeff's photos are extremely accurate colour-wise and portray just what I see in real life.
I am very please to report that, unlike some other indicolite, this gem has very little extinction and maintains looking attractive in pretty much any lighting.