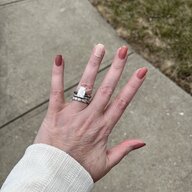 Joined

Apr 7, 2017
Messages

4,561
It's been a while since my last post, and I'm very happy to be back among such an amazing community.
Life had me chasing my tail since Oct., 2019, and the year came to a close with the passing of my mother, who battled Alzheimer's Disease over the past 5 years.
I have a lifetime of fond memories of my sweet mother, but I wanted something physical, and tangible to hold and wear to carry her with me, every day.
Knowing my love for all things that sparkle, and remembering how fond I am of Mariana pieces, DH surprised me Christmas morning with a guardian angel necklace by Mariana; a piece I have wanted for the majority of 5 years, now. My mother passed 2 days before Christmas. Her birthstone is Aquamarine. This piece is significant in the design, and color scheme: white stones surrounded by light, aquamarine stones, with one aquamarine stone in the center.
I love this necklace for so many reasons, and I wear it every day.
I miss my mother, but I know her soul is now free from the body that imprisoned her. This piece keeps her close to me, and gives me comfort.