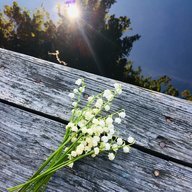 Joined

Aug 9, 2019
Messages

48
After spending a lot of time reading the
Starsgem thread
, I finally pulled the Starsgem tripper in July (btw thanks to EVERYONE who contributed to that thread. I read all 50 pages and I think it's incredible how it started and where it's at now). Even though most people use Starsgem to custom make the whole ring, I had them make a semi-mount ring with lab diamond halo for my YAG from Gene at Precision Gem.
I hope my experience helps others who are interested in using Starsgem for semi-mount rings or lab diamonds, as semi-mounts do require a bit of back-and-forth since they don't have the stone in hand to work with.
Here are the specs:
Center Stone: 8x8 mm YAG by Gene Flanigan
Halo: 14pc 1.8mm Lab Grown Diamonds + 2pc 3x5mm Pear Moissanites
Metal: Platinum
The plan was to get it made quickly and set the YAG here in US before my travels in mid-August, so I created a spec sheet with a simulated ring image for my rep, Jamie. I think it really helped her visualize what I was looking for.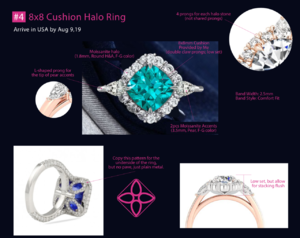 We communicated via WhatsApp, and it was okay. I'm on the East Coast so I had to stay up to chat with her in real time, as that's when we could really get things moving.
A few days later, Jamie came back with the first CAD based on my specs. On the right are my comments.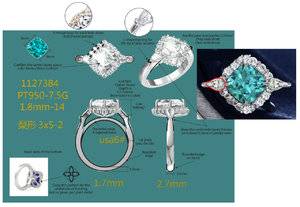 As you can see below, it took a couple more CAD drawings (and lots of late-night chatting on WhatsApp) to get to the final design.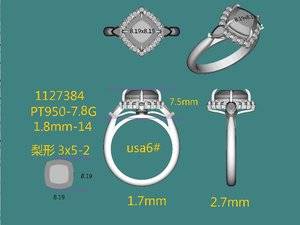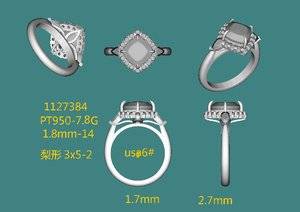 And voila! Here's what she sent me: