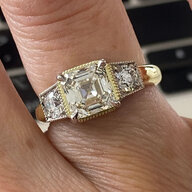 Joined

Jun 25, 2019
Messages

80
I finally had the right weather and time to take some photos. This is the ring I bought on impulse a few weeks after I decided that I wanted a bigger diamond lol Truth be told, it's the one carat diamond I bought so I wouldn't make a more significant purchase on impulse! If that makes sense.
She's a Champagne (C4) round brilliant with I1 clarity. I had no idea what those details really meant back then when I first saw her at a local pawn store. I just fell in love with how much she sparkled and that warm, taupe-y hue (I love my neutrals...). At about 1000 USD, I decided I had to have her.
On paper she is probably the most imperfect diamond. She's not that well cut so she's 6.15 x 6.2mm - not exactly spready. She has a bruted girdle with either a natural indent or chip on one side. No major carbon inclusions but with a loupe it's like looking through muddy pond water LOL. There's a feather and other odds and ends here and there. Definitely an I1, now that I know better.
YET! She is just so beautiful to look at and I enjoy wearing her out. Rightly or wrongly, I am not overly precious about her. In some light she's almost apricot and other times the brown really comes through. In other lights, she's dazzling in spite of her flaws.
When the time came to choose a carat of white diamond and ring via James Allen, I was mindful of clarity but at the last minute, I ended up choosing a marquise (which I swore I would never like) in F colour and I1 clarity. I'm taking my chances but it was love at first sight and given I had viewed over 300 diamonds on JA over the last two months, I went with my gut. I'll know in a week or so if I made the right choice