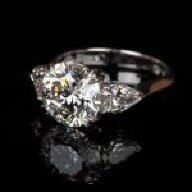 Joined

Feb 18, 2013
Messages

571
My ring has arrived! Thanks to Chris at Engagement Rings Direct for the diamond and Steven Kirsch for the custom ring!!!!! Also, thanks to all the great PSers that helped me through this project!!!!!

Picking the diamond was an extremely memorable experience! My husband and I took a trip out to NY to meet with Chris to view diamonds in person. (Both Chris and Steven went out of the way to meet us on a Saturday, which was very much appreciated!) I gave Chris my specs prior to meeting…3.2-3.6 MRB…SI2 or SI1 (eyeclean), color I, triple Ex, HCA <2.5 and a specified price range. He had 5 diamonds ready for us to look at (all within my specs), which was a dream! (I would be lucky to see 2 diamonds at a local jeweler and pay WAY more!) Chris was very patient and let us take our time comparing the diamonds with no pressure. I highly recommend the experience and it worked well for us!
The SK setting is a classic 3 stone platinum ring with .85 ctw pear side stones and double claw prongs in a size 5 ¾.
Center stone specs:
3.25 ct.
SI1
Color I
GIA Triple Ex
HCA 1.8
Table 56, depth 62.4, crown 36, pavilion 40.6
This is my second upgrade…starting with a 1.3ct, then 2.3ct and now 3.25ct…all MRBs. My next project will be what to do with my 2.3 stone!
Here are some pictures!
A little fire from the pear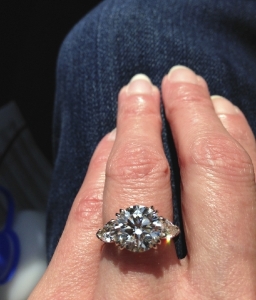 Long stop light shot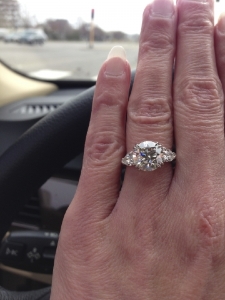 First Sun Shot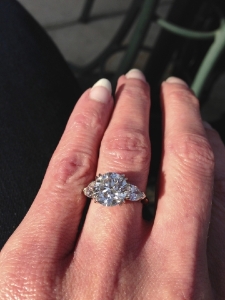 Inside shot