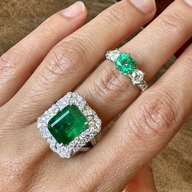 Joined

Jan 2, 2018
Messages

104
Hello! I posted previously re: ordering and waiting for a classic diamond eternity eternity ring from IDJ. This is the follow-up to that thread (mods, pls feel free to delete the duplicate post in the original thread, post #19
here
)
I received the eternity ring from IDJ and it's a beauty! So dainty and sparkly, and I think it looks pretty good with my ER.
The final stats:
30 emerald diamonds, 2.04ct
Color: F/G
Clarity: VS
Photos (excuse the dry hands!)
Some videos:
Found some sunshine to play with the sparkles
I hate to be nitpicky, but I noticed that the ring is not perfectly round…it's like the setting is "pinched" towards one end (the part with the metal piece with PT950 engraved inside). I'm afraid I can't quite explain it in words, but hopefully, you can see it in the pics:
Is this normal? I want to make sure that it's not something that's "typical" or "to be expected" in these types of rings before I contact IDJ.
I know it's a small thing (my fiancé said - "who cares, will anyone see it?") but I just can't help thinking it should be perfect (round)! Anyway, any feedback is appreciated. TIA!