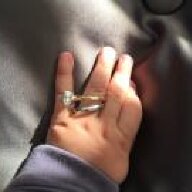 Joined

Jul 3, 2016
Messages

36
Hello,
I've been a lurker on Pricescope since 2008 and finally decided to join after years of drifting through the boards! I am in my late 20s and have been with my DH since 2007. We married in 2013 and and had our first baby at the end of 2015.
DH purchased a pave platinum engagement ring (.50 carat round) with a plain platinum wedding band as my wedding set. While I was thrilled with it, it was not really 'me'. Having stalked PS for years I realised I loved 6 prong solitaires and DH promised me that he would upgrade one day on the condition that it would be a first and final upgrade. I was fine with that since upgrades are unheard of where I live in Europe.
DH generously suggested the upgrade as a push present after our son was born and obviously I agreed! In my culture yellow gold is vastly worn and is the preferred metal of choice. I decided to go with YG as I have a lot of pieces in YG received as wedding gifts and I also feel it looks nice against my skin tone.
One thing I did not want to change from my original set was my plain platinum wedding band which is engraved with our initials and date of marriage. I am very attached to it and have worn it constantly since we married. I am okay with mixing metals as I think it looks nice and it is the norm within my social circle to wear YG pieces with WG and platinum rings etc.
So.... introduction aside, I present you with my upgrade!
0.842 J VS2
White Flash
ES round brilliant
AGS 000. I have never seen a diamond so beautiful and sparkly. It is full of fire and brilliance and I'm so pleased with it!!
The setting is a Vatche U113 in 18 karat YG with platinum prongs.
WF
were excellent and promptly replied to all of my emails. I informed them I was due to go on holiday and they ensured I received my ring in time. I would not hesitate to recommend them. Thank you to
WF
!
My ring size is 3.5 but both of my rings are sized 3.75.
I have included pictures of my 'everyday' pieces too- diamond cluster studs set in YG, a pave pendant and RHR also set in YG and a petite WG and diamond bracelet. I had my wedding band polished and cleaned to wear with my new ring. It was extremely hard to photograph the jewellery and to capture the brilliance of the diamond is next to impossible, so please excuse my first attempt!
Thank you for reading!