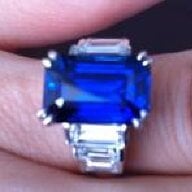 Joined

Dec 6, 2011
Messages

242
first, a warning: no photos of the stone (yet) ... reasons below but sorry to disappoint.
PANDORA -- THANK YOU!!!!!!

as some of you know, i live in hong kong. pandora suggested i reach out to richard hughes and that is eventually what i did. he ended up sourcing a stone for me and was so incredibly helpful in all aspects of my purchase.
thanks to all the pricescopers (TL, LD, Justin_Cutter, others!) who were so graciously giving of their time and expertise in my search. sapphires are hard (esp compared to diamonds, in my opinion) and at the end of the day, i had to learn to trust my eyes after educating myself (mostly through the informative discussions here).
the search for my stone has been so rewarding and i am shocked that such renown experts in the field (like richard hughes) would help with no hesitation at all! i dropped him an email through his website and was shocked when he responded in a very timely fashion. he showed me a bunch of stones that met my parameters and helped me examine each of them. then we reached out to chris smith, who happened to be in hong kong last week, and he turned around a report OVERNIGHT!!!! just incredible.
so ... i chose a 5.4ct emerald cut sapphire. it is a beautiful color and an amazing cut; there is a visible inclusion (i think it is a feather) but you have to look very hard to see it when the stone is tilted a certain way over white paper. in a setting, i think it would be very difficult to see.
i have no photography skills whatsoever and given it is an emerald cut, it is very hard to photograph accurately. it is going to take quite some time to have it set properly but i promise some photos when completed.
thanks again to all.