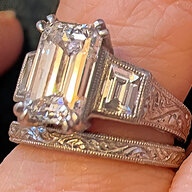 Joined

Apr 6, 2005
Messages

9,913
I've always loved emerald cut diamonds. There something about those step cut facets that just get to me...so elegant....so classic. It's been a dream to have a nicely sized one. Then all these gorgeous OECs came along and I started to get side tracked. 2020 is a big year for me, "big" birthday and my 40th wedding anniversary. Hubby was put on notice that it could be a costly year for him.

So I've been on the diamond hunt for the past few months, both ECs and OECs. Something 3 carats or over. I've looked at both from 3 cts up to 3.68 cts but not found the one until now. I left it up to fate as to which type stone and size I would end up with, whatever called to me first and appropriately the winner is an EC. GIA 3.01ct I VVS2. It only has two tiny pinpoints on the edge, is full of fire and as of this morning is now mine! It will be set in a vintage style platinum setting custom made by my jeweler. This morning we picked out the trapezoid side stones which are step cut and H VS1s. The setting will have double claw prongs, scrollwork, engraving and milgraining. Everything I love about vintage jewelry. I'm so excited. I don't know how I will wait these next couple months. I've now joined the impatiently waiting crew here on PS.
PS, I have to make a disclaimer about these pics. They were taken in my jeweler's store. This diamond reflects everything around it including her gold ceiling, hubby's yellow sweater, my green top, etc. No matter what we tried every picture came out looking like it is a Fancy Yellow diamond or a Fancy green diamond. It is neither, I assure you, lol.