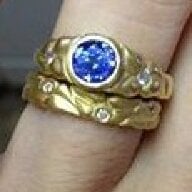 Joined

Jan 23, 2008
Messages

3,517
Many of you on the forum have been here since the beginning. A young 19 year old in the wrong relationship, from my cushette to my protype AVC to my antique engagement ring, to my selling that diamond and getting a lower color AVR. I ADORE my AVR but was always concerned about the size-I think in each of my stones the reason I wasn't happy was well-because they weren't me. While beautiful and stunning in every measurable way they just weren't 'me'. I've done a huge jewelry box clean out-my 1ctw OEC twin bypass ring from JBEG is gone, my 1ctw OEC studs are pending payment and the one I never thought I'd sell was my OMC/OEC snowflake pendant and that has a new neck in missy. I've found my ears are allergic to whatever alloy is in my bezel set emerald studs from my grandma as well as sterling causes me to react.
Our goal of being off the grid homesteaders gets more serious as we learn and understand more about ourselves and thus a 1.64 AVR just isn't suitable for me or my lifestyle. As a little girl I always dreamed of having a sapphire and as time went on, a JM ring had my heart. After much deliberation I let the JM ring go and bought myself a stunning Carol Ackerman 18k YG leaf sapphire and diamond bezel ring. I had Grace size it to a 4.5 and add sizing 'bumps' to wear it on as a RHR until we find a buyer for my wedding set (or diamond). And have already put my ring in the box (I'm REALLY hoping my gf's dad buy it for her mom as an upgrade) and every time I look at my beautiful sapphire ring my heart smiles.
The size proportion to my tiny finger is PERFECT-the color changes in the sapphire go from a rich deep blue to a purple periwinkle color and every shade in between. I won't be making (that's right I AM MAKING IT YAY!) my band until the diamond sells-but when that happen I'll be taking a DIY your own jewelery course in Toronto that allows you to make your own jewlery with goldsmiths. I'm pretty excited!
The details on the designer for the ring also make me believe it was meant to be for me-she's from Toronto! She no longer lives here but I do like the fact that she was from where I ended up transplanted.
I will ALWAYS love all things bling-and treasure the friendships and advice and distraction this forum has allowed me but no longer will I use bling/buying to distract me from issues I have buried inside or obsess over if something is right down to the loop check. In my late 20's I've owned more diamonds than anyone else I know-all ideal cut-bigger studs and diamond pendants than most of my friends sport in their wedding sets, a beautiful vintage sapphire diamond and platinum watch and the list goes on and on. I think one day maybe I'll own another nice piece or two but not for a long time. I'm very happy with having little to no piece as I tend to stick with what I love and don't change them out. I've also been finding I prefer to create my own pieces out of semi precious stones, support more organic and artisan work and invest in my hobbies such as weaving and dying and the textile arts (I just got my dream baby wrap at the extreme discounted rate of 750$-down from 1800$ retail-so it's not like I"m giving up luxury buying all together lol).
Focus now is on finishing up the house, homeschooling my boys and learning about homesteading while changing things to become a healthier person physically, emotionally and just bringing love and light to each and every person I encounter.
I hope my journey inspires others to take a leap. If something feels off, explore the deep roots of the possibilities of why. Without further ado my new engagement ring-a Carol Ackerman sapphire bezel set in yellow gold.