Joined

May 12, 2019
Messages

28
I think I'm the first person on PS to purposely "downgrade" my e-ring!
I went from a 1.5 ctw OEC 3 stone to a .5ct RB solitaire.
I discussed it in a previous thread, but here's the story:
My fiance proposed to me with a gorgeous heirloom ring from his side of the family. A large 3 stone OEC (.25-1.0-.25 ct), well cut, great clarity, in an intricately hand-engraved 10% irid platinum setting. And it was already my size. I love it so much. BUT it is terrible for my lifestyle. I'm in healthcare and am changing gloves all day, and I can't wear it at work as it's set too high and feels uncomfortable under the glove. Also, I just seem to whack my hands on things a lot. So every time I accidentally hit this ring on something, I'd have a mini heart attack and stare at it for 5 minutes looking for any damage. I think his great-grandmother wore this ring only for special occasions (holidays, church, cocktail parties, etc.) because it is in such great condition, and I would hate to ruin it. So my fiance and I agreed that I should shop around for a more "everyday" ring, and I wanted something very low profile. I came across the Tiffany Harmony setting and fell in love with the contours of the cathedral and how low the diamond sits. I tried it on in the Tiffany store and the culet of the diamond sits about 1mm off the finger -- perfect. It is so clean and classic. I looked for similar settings from other jewelers and couldn't find anything that set the diamond as low and had the same lines. I'm a sucker for a good deal and not paying "first buyer" prices, so I got this little beauty off of eBay from a wonderful seller. I wanted to keep my budget under $3k and got my 0.54ct D VS1 ex/ex/ex Tiffany Harmony for $2400 (well, my fiance did
) -- also already in my size! This is less than I would've paid for a new setting and similar diamond, so I'm very pleased with the result. I love the heirloom ring because of the sentiment behind it (and it's gorgeous!), but the new ring feels much more "me" -- and it's 100% mine. Also I'm loving the icy whiteness of the D color diamond; I'm very color sensitive so it's nice to know it's the whitest possible. Even fiance has commented on how white it is, and how he can practically see it in the dark.
Photos: I apologize if they're too big, I'm not sure how to resize them without losing resolution. Also sorry if they're crappy because I've only taken cell phone photos so far! The photos don't do either ring justice. The OEC is so fiery in person, and the solitaire is so brilliant despite not being a super ideal cut by HCA/PS standards.
Size 5.25 for reference
Heirloom ring: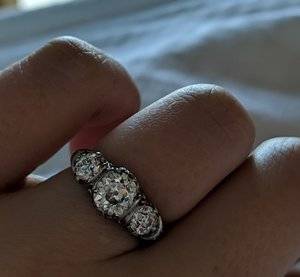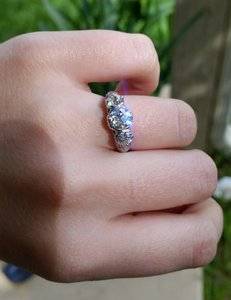 (It looks a little dirty and dinged up in this photo, but it's really shiny in person with the
tiniest
milgrain detailing all over that gets lost in these photos)
New ring: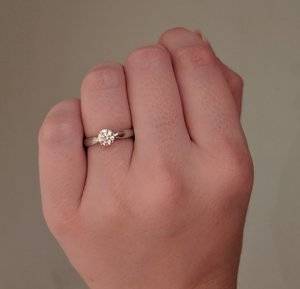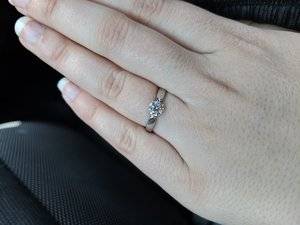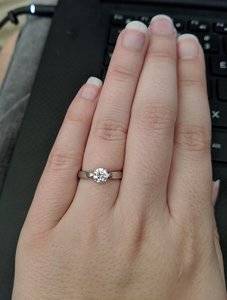 Both (the second photo is actually a 0.5ct I tried on in the store to compare):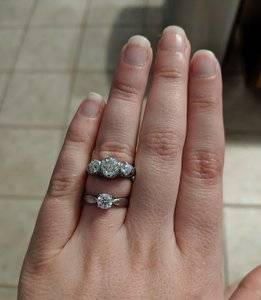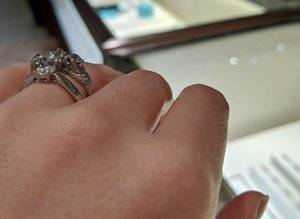 Last edited by a moderator: