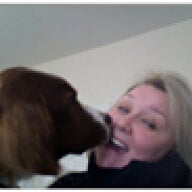 Joined

Jan 5, 2009
Messages

2,655
i''ve been reading the healthy lifestyle threads and am aware how very little i have in common with some of those tiny, gorgeous women.
so, since i''m on vacation and have come down with a cold, sinus infection, etcetc and have too much time on my hands, i thought i''d out myself on the topic of weight and fitness.
i am not a tiny little thing - oh nooo! not even close! i''m 5''5", large frame, a strong looking build, with the opposite of ''long slender fingers, tiny wrists and ankles, narrow hips'' and so on and so on. the size in which i''m most comfortable is a size 10, and my ideal weight is somewhere between 150 ad 155lbs. yes - you heard me - 5''5" and 155lbs.
up until 2005 i was a gym junkie - 10 hours a week, 2 hours a day, one of free weights and one of aerobics. i was strong and curvy looking and nowhere NEAR a size zero!! i could stomach press 35 kilos more or less interminably, and i used to run places - cause i simply had too much energy to walk! but i wasn''t little, skinny, thin or even slim. definitely not. i looked like this.... (i''m 45 yrs old in these photos, btw)....