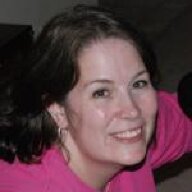 Joined

Aug 6, 2010
Messages

403
And my hubby got down on bended knee and said some wonderful things, and it's on my finger!
Specs as follows:
0.558 0.563 0.782 0.775 1.28
H H H H H
SI1 VS2 VS2 VS1 VS2
Size 10.5 finger, Platinum and Yellow Gold.
Blue sapphires on each side (one for each of our two boys) and a pink sapphire inside for our daughter.
I've had the glamour shots for a couple of weeks and have not looked as it was a promise between my hubby and me to be surprised. He picked it up yesterday. All the while he's telling me I'll get it for Christmas and not before!
So goes and picks it up yesterday at Fedex. And the Fedex lady asked him what it was, and he told him a ring; and she says "that ain't no ring, it's too heavy - it's books" and encourages him to open the box "just to make sure". Which he does, and finds another smaller Fed Ex box. And then he opens that box, and finds another Fedex box. (now I've seen the PS postings of the packaging so I'm not surprised) but the FedEx lady asks him if he's sure there's a ring and not a whole bunch of boxes. So he says no I'm sure, and opens the little box in the Fedex facility - and apparently the world stopped and everyone oohed and aahhed over it. And the guy from my hubby's office said that anyone looking at the scene would have thought he was proposing to the FedEx lady. And the same lady asks if it's an engagement ring, and he says, no I'm married, and she replies "you sure must like her". LOL
And last night, on bended knee (and my daughter's fourth birthday) he gave it to me.
Sigh.
So without further ado, here are some photos. Thank you to all the folks on here who helped me with my diamond education journey, and especially to Leslie, Jamie and Brian at
BGD
. I just cannot express how great they are to work with, how patient, and how Brian is so willing to share his knowledge with those who want to be educated.