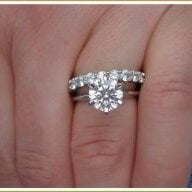 Joined

May 21, 2007
Messages

1,166
I got my new studs today! I just had to share some pics. I''m THRILLED with them! Traci at
WF
found the stones for me. She was WoNdErFuL to work with! THANK YOU, TRACI!!!!

And thank you PS, without this wonderful place I am sure I would NEVER have such GoRgEoUs diamonds!
1.22 ctw K color SI2/VS2 clarity 3prong
WF
martini studs (white gold stock settings---no the handmade martini''s that I''ve DROOLED over and will continue to drool over. Would have liked to do handmade but I was already AT budget and Traci actually talked me into the stock settings.)
My ering is a K so I was pretty sure I wanted to go K for the studs. I''m glad I did! It got me a little extra size and I''m very impressed with how WHITE these babies face up!

They are TRULY firecrackers, I catch glimpses of arrows constantly, lots of fire, just amazing compared to my old, VERY poorly cut 1ctw princess studs.
Both stones are
AGS0
, K color

Stone #1:
0.621 SI2 (eye clean!)
5.47 X 5.49 X 3.39
Table: 55.0%
Crown Angle: 34.6
Pavilion Angle: 40.8
Depth: 61.8
HCA: 1.3 EX EX EX VG
Stone #2:
0.606 VS2
5.43 X 5.46 X 3.34
Table: 55.7%
Crown Angle: 34.4
Pavilion Angle: 40.6
Depth: 61.3%
HCA: 0.7 EX EX EX VG
(Here''s the previous thread when I had just ordered them:
https://www.pricescope.com/community/threads/1-22ctw-k-color-studs-in-the-work.93200/
)