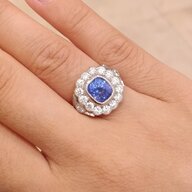 Joined

Mar 8, 2020
Messages

203
Original thread
here
. Copying some of it to here.
I live in the UK and wanted to find a good jeweller to make an antique style platinum ring with milgrain and engraving. I supplied the centre sapphire. Based on other PSers' experiences, I went with Simon Wright Jewellery in London. HIs website is
https://www.sw-jewellery.com/
Here is my summary of the experience:
I liked working with Simon. He suggested some design elements, I suggested others. He sent me cads and revised them until I was happy. Then he sent me a plastic mould of the ring. This was really helpful because I felt the shank was too thin compared to the head of the ring, so the shank was made thicker and the shoulder design had to change with it. We ended up with 16 2.3mm diamonds - 14 in the halo and 2 on the shoulders. The sapphire is from a fellow PSer, and measures 7.55 x 6.82 and weighs 2.52 carats. Standard heated. This is the photo from the loupetroop listing:
I went to London to Simon's workshop to pick up the ring as insured shipping was too expensive. I made a day of it and went to Kew Gardens afterwards
.
Simon let me look around his workshop and showed me the tools and gadgets. I really enjoyed that part. He explained that he does all designs in CAD now, and the pieces are cast, not hand forged, because that takes too much time. He sends them off to someone else to do the stone setting, and another person to do the engraving.
I think in this case the stone setter was a bit untidy with the bezel around the sapphire, but it doesn't bother me too much. I'm clumsy anyway so the ring WILL end up with dinks.
I'm not a stickler for millimetre precision (some of the threads on PS about alignment make me cringe because I don't have anything that is perfect), and based on his portfolio which are mostly modern in style, I think this intricate vintage design is not his usual bailiwick. The engraving is lovely though.
The ring is made in platinum and weighs 10 grams. It's US size 3.5 so the face of the ring looks massive on me. I wonder if people assume it's costume jewellery. Where I live, people wear small modest rings.
All photos are shown smaller than the original. You should be able to look at the full size to see details.
The ring:
I wanted to see if it was really similar to a cornflower, hence:
Close up of the engraving:
It fluoresces under UV light:
And looks violet in certain lights: