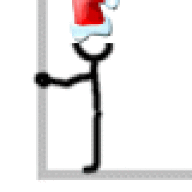 Joined

Dec 29, 2004
Messages

17,193
So...I had been looking for a pad for awhile but never saw anything I liked. This is for the ring I want to create to give to my daughter someday The Jeff White pad, while gorgeous, just didn''t strike the cord I wanted in color (but godd*mn, that cut was awesome. That stone went back. I figured I''d just give up for awhile...pads are like finding a needle in a haystack. Plus Amelia''s birthstone is diamond so I figured I could always just use plan B and do a diamond band or something.
Then this weekend Richard Wise emailed me to say he had received in a pad that was breathtaking. Unheated, classic pad color, brilliant (over 90% of the stone face), 1.03 carat. He said he had only seen two other pads this fine (a 6 carat and a 9 carat - I believe the 9 carat is posted on Pricescope).
He sent me a pic, but not professionally shot (his intention was to get that done in Tucscon). What can I say...I am in love. It was exactly to me like the lotus flower/sunset photos I had seen everywhere while researching pads. It had the pink in it and the warmth of the sun as well. This was a serious stretch in the Amelia ring budget, but a mom''s gotta do what a mom''s gotta do.
The only thing I was/am concerned about is cut. I love precision, symmetry, excellent/excellent, blah blah blah, so that is why I have always LOVED Jeff White''s stones (and hope to own one someday). But somehow, this stone is speaking to me. Richard said this photo absolutely does not show the beauty of the stone. It seems to have character and the imperfections make it more fascinating to me. Just like I imagine/hope my daughter will grow up to be. I also love that it is unheated...natural and as it was found. Btw, Richard said the stone was cut by a master cutter in Sri Lanka and is well cut with no zoning.
The stone is being shipped tomorrow. I''ll get it, make my final decision, then have to ship it right back to either AGTA or Richard as it will be certed (included in the price).
So I promised Richard I would do a show and tell when I get it, but I''m kind of too excited and jumping the gun. Plus I figure some early press for the stone isn''t a bad thing. This stone just speaks to me. It''s just funny timing that it came in when it did.
Below is the pic he sent me, along with a photo of a lotus flower (that I got somewhere on pricescope) and a photo of rough ceylon padparadscha that you may have seen if you''ve done research on pads. I don''t remember the source, but I want to say it was from a Richard Hughes article I read. Please correct me if I am wrong. The Richard Wise pad looks to me like both the lotus on the rough pad stone that I just loved when I saw it. Tropical and gorgeous. He said he would classify this in the top 5% in gemstones in terms of quality.
Richard himself is wonderful. Spent some time on the phone with me discussing pads and certification and I found the conversation very interesting.
Without further ado...enjoy! More pics when the stone arrives in a couple of days.