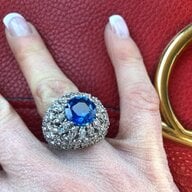 Joined

Dec 25, 2019
Messages

83
Ok, so here is the story of my "accidental" antique ring.
My grandmother loved jewelry. The bling-ier the better. My mother totally doesn't "get it."
I am positively obsessed and breathe, eat, live and enjoy everything about jewelry and gemstones.
I guess it's true what they say about things skipping a generation.
I have my grandmothers exact taste in jewelry.
Fast forward to two weeks ago I offer to organize my mothers jewelry (99% of which she never wears). She has it in a lot of tiny pouches and boxes and has no idea what she has and wears almost none of it.
I remember a dress watch my grandmother really loved that my grandfather bought for her (he appreciated jewelry and liked to buy it...the bug doesn't only affect women!). I also remember my mother disliked it and dismembered it to harvest the stones to make into a necklace it pains me to discuss I dislike it so much.
But to be fair, she wears the necklace everyday.
So she said if you want the watch take it. She also had a charming tiny rose gold very old possibly Victorian moi et toi ring that she said was her great-grandmothers. Sadly, she had put cubic zirconium in it (I know!! The mind reels!!).
I took the lot to my jeweler and off-handedly said if he could put two stones from the watch into the ring that would be great.
I didn't think it would work because there were not two stones of the same carat weight.
I just went and picked it up and it's soooo pretty!
Just charming.
The band is slim and elegant and the mismatched size is quirky nice.
I love that I'm able to utilize these lovely stones until such time as I can put them all back into the watch.
I most definitely plan on restoring the watch at some point it's just so elegant, chic and special.
So please don't worry, no jewelry was harmed during this procedure.
Oh specs, I almost forgot.
Transitional cut. No idea of color but super eye clean, I examined these stones for awhile under my jewelers super magnification and couldn't see a thing!
One stone is .65 and the other is .35.
So here is my accidental moi et toi and the dress Rolex who patiently waits in the wings for her rise from the ashes....