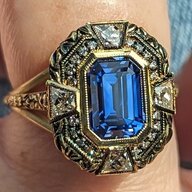 Joined

Jan 26, 2018
Messages

155
Oh my goodness.
I can't believe I am finally getting to make this post! I have been saving for a starter Whiteflash ACA all year, and I finally have it on my hand!
I waited a few days to write this, just to make sure my initial impression "stuck." I was pretty determined to try a K for my first stone. I did, and the verdict is… I LOVE IT!
I can definitely see color. In some lighting, and from the side, it is a K. But this diamond – this ring – is WOW! Most of the time, it faces up SO WHITE! I can't believe it. And in Walmart, well, it's just a little disco ball. I have never seen a diamond act like this. Ever. Any diamond. Anywhere. Ever.
I have to thank Liza at Whiteflash. I contacted her back in January, and she has been so incredibly patient with me. I sent her random questions and thoughts throughout the year, and she answered so promptly and sweetly every time. I'm so happy to have had Liza in my corner for this journey!
I must add that I had a slight shipping panic/emergency situation at 8:30 on a Saturday night because of the July 4 holiday. One would think I'd have to wait until Monday for help, but nope. I used Whiteflash's chat function on my phone. (It worked perfectly, which is no small feat for a chat function on a phone.) And Jennifer took care of it right THEN. That night. AMAZING customer service.
So, about my ring…
It's a right hand one. (I can't imagine my left hand without my beloved Asscher engagement ring on it.) I do plan to upgrade this ACA in the future on special birthdays and/or anniversaries. But, for now, this .815 K VS2 has my heart. It's DIVINE! (Shout out to
@sledge
for his posts in other threads that helped me narrow down "ideal" ideal specs for fire!)
I had lots of questions and apprehensions about buying a K. And setting it in my preferred metal of platinum. And putting it in 6 prongs when it is less than a carat. And even wearing solitaires on both hands. But, at the end of the day, this ring is just my style. It sparkles like mad, it looks far bigger than I thought it would (a little bigger, even, than my .90 F Asscher engagement ring) and I am JUST THRILLED with it!
Now, for the specs:
.815 K VS1 ACA
Measurements: 5.99x6.02x3.71 mm
Depth % - 61.8
Table % - 55.0
Crown Angle - 34.5
Star - 50.0
Pavilion Angle - 40.7
Crown % - 15.4
Lower Girdle % - 76.0
Here is a link to my stone:
https://www.whiteflash.com/loose-diamonds/round-cut-loose-diamond-4118767.htm
I set it in the Whiteflash Classic 6 Prong Solitaire Engagement Ring in Platinum. I asked for rounded, delicate prongs, and I think Whiteflash absolutely knocked it out of the park. My finger is a size 6.
It's perfect, y'all!

Here are some photos, which don't do it justice at all, but I'll keep trying!