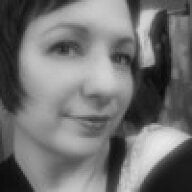 Joined

Jul 7, 2003
Messages

2,201
Hello Gang!
Well... I finally found the diamond that makes my heart sing!
This beautiful lemony pear came across my path on the net and after talking extensively
with the seller, I decided to purchase it. The return policy was awesome and could return
the ring in case I wasnt happy with it. I received it today early moring.
I went to my jeweler and he tested the diamond and everything is great.
I love the color, its so rich an beautiful. There is no bowtie in the diamond
and its the perfect ratio for my taste. I am on cloud nine!!!!
I am not liking the setting its in, so I am in talks with my jeweler to have
it set into a simple baguette setting 2 tones: Yellow gold for the basket and the
rest in platinum. Finding the perfect diamond is a hard task. I feel for all the
men out there trying to fullfil a huge thing by asking they loved one to marry them
and gettng as much knowledge in finding the right diamond within a set budget.
My kudos go to all of you!
Here are the stats on the diamond:
I came upon this beauty:
GIA report: December 24, 2008 ( woah a day before Xmas! )
Pear modified brilliant
14.77 X 8.72 X 5.69 ( 1.69 ratio - yummy )
Carat Weight: 5.13 CT
Color: W to X Range
clarity: VVS2
Total depth: 65.3%
Table Size: 56%
girdle: slightly thick to Thick, faceted
Culet: none
Polish: Very Good
Symmetry: Good
fluorescence: Strong Blue
Key to Symbols: feather, Extra Facet
And mostly, here are the pictures.
I hope you enjoy them as much as I enjoy my new pear. I do not know
exactly when I''ll get it reset, but I am going to post pictures of
the new setting. Thank you all for your support and kind comments
through my long quest!!!