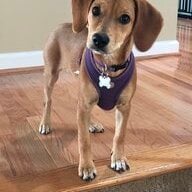 Joined

Jan 18, 2005
Messages

3,551
On Saturday my DH picked up my 2 new Quest rings!
And for those who care, here is the story
The Citrine ring is a ring that my mother gave me a decade ago when my DD was born (November baby). She bought it at Hecht's and I know nothing about it other than it's a citrine. The setting was 10K yellow gold with small princess cut citrines on the side a dark melee as well. I wanted the citrine out of the ring since I no longer cared for the setting, but it does have sentimental value. The plans for the citrine are to be a put in a micro pave halo at some point. So for now, Pete at Quest made a simple 14K white gold shank with a yellow gold basket head and I love it! I wear it as a RHR and some time next year, will have Quest make the halo for it.
My new engagement ring

that Huan and Pete at Quest created is two rings made into one. The shank is similar to the Tiffany Lucida in that it is very fluid. The only difference is that mine slightly pinches at the top of the shank to make my stone look bigger. The basket is the Cartier 1895 head and the prongs are very delicate and thin! I love it! The ring looks like the Lucida but then it has different prongs that give it a very unique look! To me, the ring is classic, timeless, clean and fluid. Quest exceeded my expectations AND my ring was done 2 weeks early!

Quest set my princess cut stone differently than how it originally was set. My stone is not a square but more of a rectangle. I prefer square princesses but back in 2002, didn't really have a preference. When DH gave my ring e-ring Saturday night (With a new "proposal") I honstly thought he had upgraded my diamond! It looks totally different! Bigger, more square and brighter! Between how Quest set the diamond (I guess it's more E-W than N-S), the thin, delicate prongs and a thinner shank than my last cathedral solitare, the stone looks like it has been set free! No bulky V-prongs, the shank is thinner and I can see more of the beautiful diamond

My only 2 concerns were my wedding band (2mm Facets Collection plain platinum) and my .55 ct. princess channel anniversary band. Since this e-ring is thinner, the diamond anniversary band looks more blingy when paired together. Height-wise, the anniversary band is a bit too tall for the e-ring and Pete did say they could shave down the band, if it bothered me. I go back and forth and am just going to wait and see how I like it in a few weeks.
I am torn about my 2mm plain band. On one hand, it's a great match with my e-ring but on the other... it now looks too thin? Almost like, the e-ring needs a band that is 2.5 mm instead of 2mm. However, I'm not sure I'm willing to shell out even MORE money for .5mm of width. Ya'll can see the two rings together in my pictures and give me your opinions

Overall, Quest rocks and they have another happy customer! The ring ideas evolved from a Lucida copy, to a 3mm shank with U prongs, to a Mark Morrell look-alike that I love, to what I ultimately ended up with- a Tiffany Lucida Cartier combo, lol. Pete totally understand my concern about the diamond being lost in a bulky setting and prongs and he even nixed my idea of putting pave diamonds on the bar between the prongs, because it would take away from the center stone. Huan originally suggested the Cartier 1895 ring because it's a classic and timeless piece. Raelly, Pete and Huan's advice, opinions and patience was invaluable!

Carrie