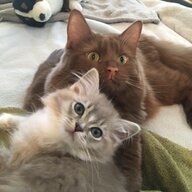 Joined

Jul 12, 2015
Messages

922
I feel compelled to share my experience with Wink Jones, Melissa Sharp, and
HPD
! For quite a while I have been researching stones for on a ring update in honor of my husband's and my 14-year anniversary. I have enjoyed this forum so much over the years and I have gained SO many valuable insights from all of you. In fact, I credit this group's collective advice for leading me to Wink Jones and
Crafted by Infinity
diamonds! My husband and I got engaged 15 years ago as struggling graduate students, and although the sentiment embodied by my original engagement ring was beyond compare, my original RB stone was a .91 I SI1 and let's just say that a well cut stone was out of our reach at the time. As a very color-sensitive "cut nut" I was fairly sure that I would upgrade at some point, and now with three sweet boys (ages 8 and under) and a wealth of memories in tow, the time is finally right!
In considering stones for my (hopefully final!) update I compared a variety of online sources including
Whiteflash
ACA
,
BGD
, and VC, but so many of you lavished praise for Wink Jones and
CBI
that I just had to see what
HPD
had to offer. Based on cflutist's account I was willing to consider a Cut-To-Order stone, but when I scanned the inventory, lo and behold Wink had exactly what I was looking for! Before I get to the stone specs I must say that Wink was a consummate professional as well as an incredible pleasure to work with, and Melissa was nothing short of top-notch as well! This really is a dream come true and I am ridiculously excited about the result! I honestly cannot find sufficient words to express my gratitude to Wink and Melissa; they are the best!!!
Now for the diamond specs! As I have no intention of upgrading again, I was hoping to crack the 2 carat mark, and for a myriad of reasons the number 21 has sentimental significance for me. In addition, I was looking for a diamond in the D-E range (I know, I know… overkill, but I am ridiculously color-sensitive). As fate would have it, Wink had a 2.21 D VS2 stone. He sent the diamond to me for inspection and it literally took my breath away! It is currently being set by
BGD
into their Novela setting. For those who are curious, here are the stats on the stone:
Table: 55.5%
Crown Angle: 34.4%
Pavilion Angle: 40.9%
Total Depth: 62%
Girdle: Thin to slightly thick
And here is the video that Wink made of the stone:
http://handshake2.jivesystems.com/videos/25uejwvop5?tag=109156
On a completely unrelated note, I noticed that some of you are cat lovers. A few weeks ago we adopted a Maine Coon kitten and he is the sweetest thing ever!! We are totally in love with him.

Anyway, thank you all for sharing (not to mention informing and guiding!) my journey. I am over the moon and ridiculously giddy... I will try to post some hand shots of this fireball soon!