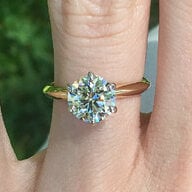 Joined

Jan 21, 2018
Messages

76
Yay!!! Finally getting to post some pictures of this BEAUTIFUL ring, several months overdue! (thanks wedding planning brain). A huge thank you to
@Wink
and
@Winks_Elf
for all of their assistance and attention during this process (read more here:
https://www.pricescope.com/community/threads/cbi-and-high-performance-diamonds-for-the-win.247534/
). We really can't recommend working with them enough!
My wonderful fiancé pulled off the best surprise of my life when he got down on one knee and asked me to be with him for the rest of time. We've been doing the long-distance thing for almost 3 years now as he finishes up pilot training with the Navy, and I'm in school many states and thousands of miles away. With so many aspects of our lives being "planned" (flights out to see each other, times to talk on the phone with the time change and our busy schedules, etc. etc.) we thought there was no way this proposal could be a surprise. After being crushed to hear he couldn't get leave to make it to a special school ceremony last summer, I nearly had a heart attack when I realized the man standing at the end of this dock on beautiful Lake Washington was him, and what was about to take place. He got down on one knee and asked me to be his wife, and I can't even really remember what else happened. I couldn't believe he made it all the way out here without me knowing, and he had this entire thing planned out. No diamond or ring will ever mean as much to me as having this guy by my side for all the ups and downs of life, but it's so special to be able to see this shiny ball of fire on my hand every day as a reminder of him and all the hard work he put into this special purchase.
The best YES of my life was soon followed with a glance down at my hand to see the most beautiful engagement ring and diamond I could have ever dreamed of. A 1.55 ct I/SI1 Crafted by Infinity diamond, perfectly eye-clean and white as can be, with a 6-prong yellow gold and platinum knife-edge setting that my fiancé had custom created with a jeweler local to me.
Thank you thank you THANK YOU to all of the amazing PS-ers who help lurkers like my fiancé and I make sense of this whole diamond searching game... and thank you to Wink and Melissa at High Performance Diamonds for helping us join the Crafted by Infinity family.